Welcome to the Purdue OWL
This page is brought to you by the OWL at Purdue University. When printing this page, you must include the entire legal notice.
---
Copyright ©1995-2018 by The Writing Lab & The OWL at Purdue and Purdue University. All rights reserved. This material may not be published, reproduced, broadcast, rewritten, or redistributed without permission. Use of this site constitutes acceptance of our terms and conditions of fair use.
---
Formato General de MLA
La versión en inglés de esta página se encuentra aquí: MLA General Format
El estilo MLA especifica las pautas para dar formato a los manuscritos usando  el idioma inglés. Este formato también proporciona a los escritores un sistema para referenciar sus fuentes bibliográficas a través de citas puestas entre paréntesis en sus ensayos y páginas de trabajos citados.
Los escritores que usan correctamente MLA también aumentan su credibilidad al demostrar responsabilidad ante sus fuentes.La importantica del  uso del estilo MLA radiaca en que puede proteger a los escritores de las acusaciones de plagio, que es el uso intencional o accidental no acreditado del material original por parte de otros escritores.
Si se le solicita que utilice el formato MLA, asegúrese de consultar el Manual de MLA (8ª edición). Académicos y estudiantes de posgrado también deberan consultar el Manual de estilo de MLA y la Guía para Publicaciones Académicas (3ª edición). El Manual MLA está disponible en la mayoría de los centros de escritura y bibliotecas de referencia; también está disponible en librerías, bibliotecas y en el sitio web de MLA. Consulte la sección de recursos adicionales de este folleto para obtener una lista de libros y sitios útiles sobre el uso de este estilo.
Formato de papel
La preparación de trabajos y manuscritos en estilo MLA es presentada en el capítulo cuatro del Manual de MLA y en el capítulo cuatro del Manual de estilo MLA. A continuación, se incluyen algunas de las pautas básicas para formatear un papel al estilo MLA.
Reglas generales
Escriba su documento a computadora e imprímalo en un papel blanco estándar de 8.5 x 11 pulgadas.

Escriba a doble espacio el texto de su documento  y use una fuente legible (por ejemplo, Times New Roman). Cualquiera que sea la fuente que elija, MLA recomienda que los estilos de letra regular y cursiva contrasten lo suficiente como para que sean reconocibles entre sí. El tamaño de la fuente debe ser 12 pt.

Deje solo un espacio después de los puntos u otros signos de puntuación (a menos que su instructor/a indique lo contrario).

Establezca los márgenes de su documento a 1 pulgada en todos los lados.

Tabule

la primera línea del párrafo a media pulgada del margen izquierdo. MLA recomienda que uses la tecla Tabulador (TBA) en lugar de presionar la barra espaciadora cinco veces.

Cree un encabezado que numere todas las páginas consecutivamente en la esquina superior derecha, media pulgada desde la parte superior y al ras con el margen derecho. (Nota: su instructor/a puede pedirle que omita el número en su primera página. Siempre siga las pautas de su instructor/a).

Use cursiva a lo largo de su ensayo para los títulos de obras más largas y, solo cuando sea absolutamente necesario, proporcione énfasis.

Si tiene notas finales,

inclúyalas

en una página separada antes de su página de

trabajos citados

.

Titule

la sección Notas (centrada, sin formato).
Formato de la primera página del documento
No haga una página de título para su documento a menos que sea solicitda.

En la esquina superior izquierda de la primera página, indique: su nombre, el nombre de su instructor/a, el curso y la fecha. Una vez más, asegúrese de utilizar texto a doble espacio.

Doble espacio de nuevo y centre el título. No subraye, ponga en cursiva ni coloque su título entre comillas; escriba el título iniciando cada palabra con mayúscula (mayúscula estándar), no se debe capitalizar todo el título.

Use comillas y/o cursivas al referirse a otras obras en su título, tal como lo haría en su texto. Por ejemplo: Miedo y asco en Las Vegas como juego de la moral; El cansancio humano en "Después de recoger la manzana." 

Doble espacio entre el título y la primera línea del texto.

Cree un encabezado en la esquina superior derecha que incluya su apellido, seguido de un espacio con un número de página; numere todas las páginas consecutivamente con números arábigos (1, 2, 3, 4, etc.), media pulgada desde la parte superior y al ras con el margen derecho. (Nota: su instructor/a u otros lectores pueden pedirle que omita el encabezado del apellido / número de página en su primera página. Siempre siga las pautas del instructor/a).
Aquí hay una muestra de la primera página de un artículo en estilo MLA: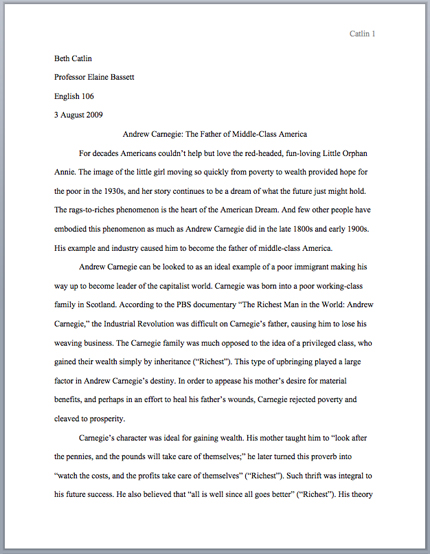 Encabezados de sección
Algunas veces, los escritores usan  encabezados en las secciones para mejorar la legibilidad del documento. Estas secciones pueden incluir capítulos individuales u otras partes nombradas de un libro o ensayo.
Ensayos
MLA recomienda que, al dividir un ensayo en secciones, numere esas secciones con un número árabe y un punto seguido de un espacio y el nombre de la sección. Ejemplo:
Primeros escritos

Los años de Londres

Viajando por el continente

Años finales
Libros
MLA no tiene un sistema prescrito para los títulos de libros (para obtener más información sobre los títulos, consulte la página 146 en el Manual de estilo de MLA y la Guía para publicaciones académicas, 3ª edición).  Si solo está usando un nivel de encabezados, lo que significa que todas las secciones son distintas y paralelas y no tienen secciones adicionales que encajen entre ellas, MLA recomienda que estas secciones se parezcan entre sí de forma gramatical. Por ejemplo, si sus encabezados suelen ser frases cortas, haga que todos los encabezados sean frases cortas (y no, por ejemplo, oraciones completas). De lo contrario, el formato depende de usted. Sin embargo, debe ser consistente a lo largo del documento.
Si emplea múltiples niveles de encabezados (algunas de sus secciones tienen secciones dentro de las secciones), es posible que desee proporcionar una clave de los encabezados de nivel elegidos y su formato a su instructor/a o editor/a.
Ejemplos de encabezados de sección
El siguiente ejemplo demuestra encabezados que están destinados ser utilizados solo como referencia. Se puede emplear cualquier formato que funcione mejor para usted, siempre y cuando este sea consistente a lo largo del documento.
Numerado:
Conservación del suelo
Conservación del agua

Conservación de energía
Formato, sin numerar:
Encabezado de nivel 1: negrita, a la izquierda
Encabezado de nivel 2: cursiva, color a la izquierda
Encabezado de nivel 3: centrado, negrita
Encabezado de nivel 4: centrado, cursiva
Encabezado de nivel 5: subrayado, color a la izquierda
Navigation

General Writing

Writing Style

The Writing Process

Prewriting (Invention)

Writer's Block

Stasis Theory

Developing an Outline

Proofreading

Writing with Feedback

Academic Writing

The Rhetorical Situation

Establishing Arguments

Logic in Argumentative Writing

Historical Perspectives on Argumentation

Paragraphs and Paragraphing

Essay Writing

Conciseness

Adding Emphasis

Sentence Variety

Using Appropriate Language

Active and Passive Voice

Using Foreign Languages in Academic Writing in English

Common Writing Assignments

Argument Papers

Research Papers

Research Posters

Exploratory Papers

Annotated Bibliographies

Mechanics

Transitions and Transitional Devices

Two-Part (Phrasal) Verbs (Idioms)

Gerunds, Participles, and Infinitives

Grammar

Adjective or Adverb

How to Use Adjectives and Adverbs

Prepositions

Pronouns

Relative Pronouns

Count and Noncount Nouns

Verb Tenses

Irregular Verbs

Punctuation

Punctuation

Independent and Dependent Clauses

Commas

Quotation Marks

Visual Rhetoric

Visual Rhetoric

Analyzing Visual Documents

Using Fonts with Purpose

Designing Effective PowerPoint Presentations

Data Visualization

Undergraduate Applications

Undergraduate Application Timeline and Additional Resources

Graduate School Applications

Overview

Researching Programs

Statements of Purpose

Personal Correspondence

Community Engaged Writing

Media File Index

Research and Citation

Conducting Research

Research Overview

Conducting Primary Research

Evaluating Sources of Information

Searching Online

Internet References

Archival Research

Using Research

Quoting, Paraphrasing, and Summarizing

Paraphrase Exercises

Writing with Statistics

Resources for Documenting Sources in the Disciplines

APA Style (7th Edition)

APA Formatting and Style Guide (7th Edition)

MLA Style

MLA Formatting and Style Guide

Chicago Style

CMOS Formatting and Style Guide

IEEE Style

AMA Style

ASA Style

APA Style (6th Edition)

APA Formatting and Style Guide (6th Edition)

Avoiding Plagiarism

Teacher and Tutor Resources

Writing Instructors

Grades 7-12 Instructors and Students

Writing Across the Curriculum: An Introduction

Creative Nonfiction in Writing Courses

Poetry in Writing Courses

Teaching OSDDP: A Guide for Professional Writing Instructors

Writing Letters of Recommendation for Students

Writing Tutors

Tutoring Creative Writing Students

Tutoring Grammar

Teaching Resources

Preventing Plagiarism

Contextualizing Plagiarism

Avoiding Plagiarism

Translingual Writing

Writing in the Engineering Classroom

Graduate Writing

Introduction to Graduate Writing

Graduate Writing Topics

Graduate Writing Genres

Thesis & Dissertation

Subject-Specific Writing

Professional, Technical Writing

Effective Workplace Writing

Audience Analysis

Prioritizing Your Concerns for Effective Business Writing

Activity and Postmortem Reports

Basic Business Letters

Memos

Grant Writing

Donation Request Letters

Technical Reports & Report Abstracts

White Papers

Revision in Business Writing

Business Writing for Administrative and Clerical Staff

Writing in Literature

Writing About Film

Literary Terms

Writing About Fiction

Writing About Literature

Writing in Literature (Detailed Discussion)