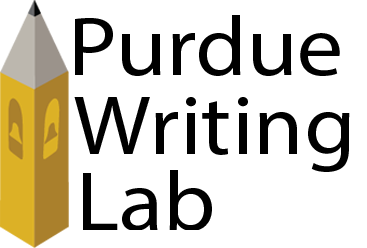 Welcome to the Purdue Writing Lab
This page is brought to you by the Writing Lab at Purdue University. When printing this page, you must include the entire legal notice.
---
Copyright ©1995-2018 by The Writing Lab & The OWL at Purdue and Purdue University. All rights reserved. This material may not be published, reproduced, broadcast, rewritten, or redistributed without permission. Use of this site constitutes acceptance of our terms and conditions of fair use.
---
Opportunities for Purdue Undergraduate Students
If you're an undergraduate student at Purdue's West Lafayette campus, please consider working as a Writing Lab consultant. The following FAQs provide information about tutoring and its benefits. For more information, please contact writing.lab@purdue.edu.
Not sure what tutoring in the Writing Lab would be like? Here's a video featuring six undergraduate tutors and their experiences in the Writing Lab.
We are interested in reflecting the diversity of the Purdue community. Students from diverse backgrounds and any major are encouraged to apply for positions in the Writing Lab.
FAQs: Undergraduate Positions
What is the Writing Lab and what does a Writing Lab consultant do?
The Writing Lab offers one-to-one consultations to any writer at Purdue on any project, in any stage of the writing process. Consultations can happen face-to-face or virtually. The Writing Lab also offers multilingual conversation groups, workshops, computers for general use, faculty support, and online support materials through the Online Writing Lab (OWL). You can read the Writing Lab's mission statement at https://owl.purdue.edu/writinglab/about/mission_goals_and_description.html.
Tutors generally work one-to-one with writers, but tutors can also lead workshops and English conversation groups, facilitate writing groups, and engage in special projects. Tutors are paid for this work.
What are some of the benefits of consulting?
Undergraduate students from all majors will develop leadership skills and continue their professional growth while working in the Writing Lab. In fact, tutors find that employers are very interested in their Writing Lab experiences, regardless of what field the job or internship is located in because writing and communication are valued in every industry. In addition, tutors can:
Meet new people from across campus.
Further develop written and oral communication skills.
Build leadership skills through tutoring, as well as special leadership roles.
Participate in a supportive community of peers who share an interest in writing and language.
Support diversity.
Receive mentoring and learn mentoring strategies.
Prepare for careers after Purdue.
What is tutoring like?
Most tutoring occurs in one-to-one sessions, the goal of which is to help students become better writers. Tutors face a range of issues around writing, from. organization to grammar. The goal is always to help the writer grow and have greater agency/control over their writing. Consultants model practices for beginning to write, revising, and editing. While they never 'take over' someone's document, and they help the writer learn from effective teaching practices. Undergraduate consultants help writers work on all kinds of documents, including assignments from first year composition, upper division papers from across the disciplines, dissertations, resumes and job letters, and technical writing. They work with graduate and undergraduate students, novice and expert writers, and writers from different linguistic and cultural backgrounds. Consulting can take place face-to-face in one of our physical locations, or it can be virtual through synchronous (real-time) or asynchronous (email-based) options.
Do I have to be an English major to work as a tutor?
No! In fact, we welcome all majors to consider this opportunity because tutors develop important leadership and communication skills that are important to any industry. Writing Lab tutors come from a variety of colleges and majors on campus, including liberal arts, engineering, technology, pharmacy, and pre-med.
How much do tutors work and how are tutoring hours scheduled?
Tutors' hours are based on their schedule, as well as Writing Lab needs and budgetary constraints, and they work the same schedule each week during a semester. Many tutors work an average of 5-10 hours per week.
Undergraduate Applications
I want to be a Writing Lab undergraduate tutor. What do I do next?
Before you can tutor in the Writing Lab, you undergo one of three training options listed below. Please contact writing.lab@purdue.edu to submit your application materials (see below), or if you have questions.
We are interested in reflecting the diversity of the Purdue community. Students from diverse backgrounds and any major are encouraged to apply for positions in the Writing Lab.
ENGL 390
Enroll in English 390: Theories and Methods of Tutoring Writing (3 credits), and successfully complete all coursework and activities.This course will teach you background on theories and methods of peer tutoring in the Writing Lab. Tutors work with a variety of clients across campus, including undergraduate and graduate students, faculty, and staff. Tutors are trained to respond to different kinds of writing in different stages of the writing process.
Self-Paced Education
Available Spring 2022! Participate in and complete a paid, self-paced education program. This includes learning modules on BrightSpace, a sequence of observations in the Writing Lab, team tutoring in the Writing Lab, leading and shadowing an experienced peer— among other activities. Be on the lookout for more information forthcoming. 
Internship
Engage in an internship that provides academic and experiential learning around the mentoring of writing (Students beyond English may collaborate with the Writing Lab and their home academic department to negotiate an appropriate experience and academic credit).
Application Process
Provide a recommendation from a faculty member, appropriate graduate teaching assistant, or university instructional staff (such emails or letters are especially helpful when the writer has a sense of the larger academic culture in their home department or broader university – how teaching and learning happens for students beyond an individual course, what sorts of people skills lead to effective mentoring),
Submit an email of interest that explains 1) why you want to work with other writers in the lab, 2) provides relevant educational/background information, and 3) discusses how working in the lab fits into your larger goals (send to writing.lab@purdue.edu), and
Meet with a representative of the Writing Lab or a larger committee of Writing Lab consultants and leadership.
 On the advice of the committee, the faculty director will make final decisions about hiring and retention of writing consultants.
Navigation

About

Students

Faculty

Alumni

Newsletter

Jobs in the Writing Lab
Writing Consultations
Schedule a writing consultation/tutoring appointment at any location or register for our group programs with our 
online scheduler
. 
Face-to-face (in-person), online (live video chat), and etutoring (emailed feedback) appointments available.
Please note: You must be a Purdue student, staff, or faculty member of the West Lafayette campus to use our writing consultation services or attend our group programs. For assistance scheduling your first appointment, we've prepared a helpful guide to using our online scheduler, WCO. 
---
Hours
Monday-Friday 9:00 am - 6:00 pm
Evening and weekend hours may be available at our satellite locations or virtually as late as 9:00 pm, please check our online schedule for details on current availability.
---
Contact us
Phone: (765) 494-3723
Fax: (765) 494-3780
Facebook | Twitter | Instagram | Youtube
Subscribe to the Writing Lab Newsletter
---