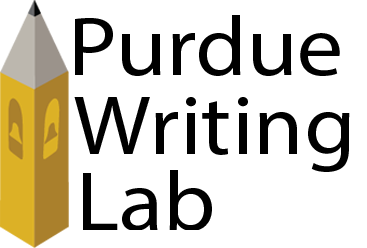 Welcome to the Purdue Writing Lab
This page is brought to you by the Writing Lab at Purdue University. When printing this page, you must include the entire legal notice.
---
Copyright ©1995-2018 by The Writing Lab & The OWL at Purdue and Purdue University. All rights reserved. This material may not be published, reproduced, broadcast, rewritten, or redistributed without permission. Use of this site constitutes acceptance of our terms and conditions of fair use.
---
"I read about the topic before I write to enrich my repertoire of ideas."  -Hadi B., Tutor

By Rachel A., Tutor 





Writing a dissertation may well be one of the most challenging tasks you ever take on. Lots of people will contribute to your dissertation over time, not least your chair and committee, but don't forget that the Writing Lab can play an important role in your dissertation process!

One of the most important considerations for any academic writing is that it should be intelligible to a non-expert audience, and our tutors are trained to act as that non-expert audience for you. After you've worked on the same project for many months, if not a year or more, a Writing Lab tutor can provide a second pair of generally educated and curious eyes. We can help you address issues of clarity that can come from your own highly specialist knowledge—you certainly know what you mean, but we can tell you if outsiders will, too!

The process of dissertating is certainly a long one, and one skill many dissertators often overlook is project management—when you are dissertating, you have to manage your research and writing time, balance other academic and personal obligations, and work with your committee's own busy schedules. It can be easy to let longer projects fall by the wayside because their deadlines are off in the distance. Visiting the Writing Lab regularly can help keep you accountable; you will have to have some new material, new thoughts, new ideas, etc. to show your tutor (or tutors, if you visit different tutors instead of only one) each time you come, and the low-stakes rapport you can develop with a tutor can encourage you to keep going.

Whether you are just starting out on the road to your dissertation or you're already part of the way down that path, consider making Writing Lab visits part of your workflow.

The Intensive Writing Experience is gives doctoral students in good standing with their programs time to write or to revise their dissertations with support from Writing Lab staff.  Participants will receive writing instruction and support from Writing Lab staff, will spend significant time writing or revising their dissertations, and will network with other dissertation writers on campus.   





The Fall Break session will take place on Tuesday, October 8, 2019, from 9:30 AM to 4:30 PM.  Attendees must commit to attending the entire day.  Lunch and snacks will be provided.   



Writers should complete our survey by this Friday, September 20th. Signup is required! For more information about signing up please go to our website.  Please follow the instructions carefully! 

Tailoring Your Resume for a Job Application - Oct 2




Is there a specific job that you've been wanting to / or are in the process of applying for? This workshop will help you tailor your résumé to meet that goal. Audience members are encouraged to bring computers/tablets and material(s) in progress to use during the workshop.



Registration is required for all workshops, so visit our online schedule and choose the "Group Programs" schedule from the menu.  All workshops are held in HEAV 220, 1:30-2:30 PM.

See all our workshops.

Our next Writers' Room will be on Oct 2.

This fall the Writers' Room will be available the first and third Wednesday of every month from now until Dec 4.  All Writers' Rooms will be held in WALC 2124, 4 pm - 6 pm. The seatsare powered, so feel free to bring laptops.

Registration is required, so visit our online schedule and choose the "Group Programs" schedule from the menu.



Visit our daily conversation groups to enhance your English language skills. Held in HEAV 220 Sep 2 - Dec 11.  Registration is required, so visit our online schedule and choose the "Group Programs" schedule from the menu.


Mon –  10:30 am-11:30 am
Tues (TV Snack Chat) – 1:30 pm-2:30 pm 
Wed – 3:30 pm-4:30 pm 
Thurs – 11:30 am-12:3A0 pm 
Fri – 10:30 am-11:30 am


 

Get feedback!



Our trained tutors assist all writers at Purdue working on ANY writing project, at any stage of the writing process both in person and online.
 
 
 

The Weekly Writer

is published each week by the Writing Lab while classes are in session.  Please check our website owl.purdue.edu for more information on our services and hours.

Contact Us: writing.lab@purdue.edu
Navigation

About

Students

Faculty

Alumni

Newsletter

March 2020

February 2020

January 2020

December 2019

November 2019

September 2019

October 2019

Jobs in the Writing Lab
Tutoring Schedule & Locations
Schedule a tutoring appointment at any location with our online scheduler.
Please note: If you have issues logging in, please call the Writing Center for assistance scheduling your appointment
Phone: 765-494-3723
---
Virtual Hours (Summer 2020)
Only virtual appointments are available at this time.
Monday - Friday: 9:00 AM – 5:00 PM
---