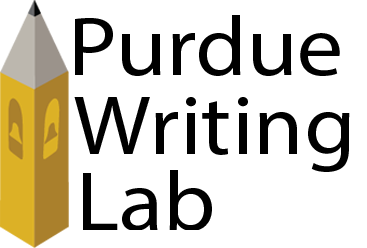 Welcome to the Purdue Writing Lab
This page is brought to you by the Writing Lab at Purdue University. When printing this page, you must include the entire legal notice.
---
Copyright ©1995-2018 by The Writing Lab & The OWL at Purdue and Purdue University. All rights reserved. This material may not be published, reproduced, broadcast, rewritten, or redistributed without permission. Use of this site constitutes acceptance of our terms and conditions of fair use.
---
 

Writing Tip

"I don't edit while I write! Instead, if I can't think of the perfect word or phrasing, I just make a note to myself to come back later and move on to the next thing."


-Eliza G., Tutor

 

This genre analysis workshop moves into advanced content topics. Audience members will learn how genre analysis works for articles and literature reviews, and they are encouraged to bring computers/tablets and material(s) in progress to the workshop.

All workshops are held in HEAV 220, 1:30-2:30 PM.

Registration is required and open to all Purdue students, staff, and faculty. Please visit our online schedule and choose the "Group Programs" schedule from the menu to register.

This fall the Writers' Room will be available the first and third Wednesday of every month from now until Dec 4.  All Writers' Rooms will be held in WALC 2124, 4 pm - 6 pm. The seats are powered, so feel free to bring laptops.

Registration is required and open to all Purdue students, staff, and faculty. Please visit our online schedule and choose the "Group Programs" schedule from the menu to register.
Visit our daily conversation groups to enhance your English language skills weekdays between now and Dec 11.  All conversation groups are held in HEAV 220.


Mon –  10:30 am-11:30 am
Tues (TV Snack Chat) – 1:30 pm-2:30 pm 
Wed – 3:30 pm-4:30 pm 
Thurs – 11:30 am-12:3A0 pm 
Fri – 10:30 am-11:30 am

Registration is required and open to all Purdue students, staff, and faculty.  Please visit our online schedule and choose the "Group Programs" schedule from the menu to register.
By Carly Rae Z.

Hi! My name is Carly Rae and I am a first-year student in the Creative Writing MFA program. It's also my first semester tutoring in the Purdue Writing Lab. Working with the different kinds of people who visit the Writing Lab has been rewarding for me so far. Since I am a creative writer, some of my strengths including brainstorming and generating ideas, especially with creative works. I enjoy helping clients foster their creativity in our sessions. In case you didn't know, clients are welcome to bring fiction, poetry, and other creative documents into the lab to work on. But whatever you want to work on, in any stage of the writing process, my aim to help clients feel more competent and capable at the end of our sessions. I hope to see you soon!

English
WALLA (Wabash Area Lifetime Learning Association) & BIG READ


Today

, 12:15-1:00 pm
St. Andrews UMC, WL

Review of The Odyssey with Purdue Professor Emeritus Margaret Rowe.


LGBTQ Center


Boilers Out Loud!


Today

, 7:00 pm - 8:00 pm
Pao Hall's Mallett Theatre

Join us for the 7th Annual Boilers OUT Loud at 7pm in Pao Hall! Our performers have been hard at work to deliver their amazing monologues! The performance is FREE and open to all!

The Boilers OUT Loud! performance is a collection of funny, interesting, exciting, serious, creative, poignant,sometimes embarrassing but always TRUE stories authored and performed by Purdue University students,faculty, and staff. These monologues use the power of the spoken word to educate and empower by sharing our identities with the world.
English


LTC Forum Series featuring Daniel Froid




Today

, 4:30 pm
WTHR 160

The LTC Forum Series is an informative and collaborative space for emerging scholars in the Literature, Theory, Cultural Studies program to share their research. These forums are intended to be supportive spaces for graduate students to present recent projects and works in progress, learn from other graduate students, and receive productive feedback from members of the department. Each session will last for approximately one hour, which will include time for both the research talk and discussion/questions. 

AAARCC
"Managing Stress in the Internship/Job Search Process"
Thurs, October 31, 12:00 pm - 1:00 pm
AAARCC (915 5th St)

Speaker: Rose Xu (Career Service Consultant)


BCC


Arts as Activism
Thurs, October 31, 4:30 pm - 6:00 pm
Black Cultural Center MP1

Spoken word and writer's workshop featuring Indiana poet laureate Adrian Matejka.  Food provided upon RSVP at tinyurl.com/aactivism.

LGBTQ Center


Fabulous Friday:  Sugar Skulls!
Fri, November 1, 11:00 am - 4:00 pm
SCHL 230

Join us as we celebrate Día de los muertos and decorate sugar skulls!

Fridays are fabulous in the LGBTQ Center! Every Friday during the academic year, we make Fridays fabulous by inviting the campus community to join us in social and self-care activities, such as crafts, board games, and skills development. Participants can meet new friends, learn more about the LGBTQIA+ community, and de-stress before the weekend. Read more about Fabulous Fridays here.


NAECC




"Pokégnek Bodéwadmik: Keeper's of the Fire"Native American Heritage Month Opening Lecture by Dr. John Low


Fri, November 1, 11:30 am - 1:00 pm
STEW 310

Dr. John Low (Pokagon Potawatomi) will provide a historical overview of the Pokagon Potawatomi, their connection to Mother Earth, and the continuous challenges they face for language preservation. Low is Associate Professor in Comparative Studies at Ohio State University-Newark, recently selected as the Director of the Newark Earths Center (NEC), and author of "Imprints: The Pokagon Band of Potawatomi Indians & the City of Chicago."

LCC


Dia de los Muertos Celebration


Fri, November 1, 6:00pm-8:00pm
Purdue Memorial Union Ballrooms

Día de los muertos is a time to call upon our deceased loved ones, reflect on the life they lived. At Pudue University, it is a time to learn about the Día de los muertos traditions across Latin America and in the United States. Student organizations, academic units and departments as well as community organizations are invited to create altares that honor the dead and also educate the public. The evening also features other activities such as face-painting, traditional Latin American dances and decorating sugar-skulls.

English
BIG READ
Sat, November 2, 2:00-4:00 pm
Barnes & Nobles, Lafayette

"The Odyssey graphic novel: A comics Workshop." Free and open to the public.

BCC
Old Masters Luncheon
Mon, November 4, 11:30 am - 1:00 pm
At the BCC

Luncheon featuring Orlando Ashford and Andre Hughes. Lunch will be provided.


NAECC




Film Documentary Screening and Discussion of "Dawnland"


Tues, November 5, 6:00 – 730 pm
STEW 278

"'My foster mother told me…she would save me from being Penobscot.' For most of the 20th century, government agents systemically forced Native American children from their homes and placed them with white families. As recently as the 1970s, one in four Native children nationwide were living in non-Native foster care, adoptive homes, or boarding schools. Many children experienced devastating emotional and physical harm by adults who tried to erase their cultural identity. Now, for the first time, they are being asked to share their stories…"

Tugg Edu films. Awards: Woods Hole Jury Award 2018-Best Documentary; Buffalo International Film Festival Jury Award 2018-Best Documentary; and Tacoma Film Festival Audience Award 2018-Best Documentary. (Not Rated) 86 minutes.


LGBTQ Center


QSOC Presents:  An Evening with Stephanie Beatriz
Friday November 8th, 6:30pm-7:30pm
Fowler Hall

Queer Students of Color (QSOC) is proud to host actress Stephanie Beatriz on campus for an evening of conversation! 

Stephanie Beatriz is an actress best known for playing Detective Rosa Diaz in the NBC comedy series Brooklyn Nine-Nine. As a bisexual actor, Beatriz has thought long and hard about what representation means both as a character on a show and for herself as an artist. Please join us in this incredible discussion.

The free tickets can be accessed here: bit.ly/SBeatriz


LGBTQ Center


Game Night
Tuesday Nov. 12 and Wednesday Nov. 13, 4:45pm-6:45pm
LGBTQ Center (SCHL 230)

Join us for a night of video games, tabletop games, D&D, and more! Free and open to all. In collaboration with Purdue Recreation & Wellness. Participants can meet new friends, learn more about the LGBTQIA+ community, and de-stress before the weekend. 

AAARCC


Reali-tea: Conversations on Well-Being and Resiliency


Wed, Nov 13, 2019 at 1:00-2:00 p.m. 
AAARCC (915 5th Street)

Bubble tea and light refreshments will be served.  Conversations will be led by Tianna Bertsch, Ph.D., HSPP (CAPS Staff Therapist) and Casiana Warfield, MS (CAPS Psychology Intern).  Sponsored by Purdue AAARCC and Purdue Counseling & Psychological Services (CAPS).


 

Get feedback!



Our trained tutors assist Purdue students, staff, and faculty working on ANY writing project, at any stage of the writing process both in person and online.
 
 
 

The Weekly Writer

is published each week by the Writing Lab while classes are in session.  Please check our website owl.purdue.edu for more information on our services and hours.  

Contact Us: writing.lab@purdue.edu
Subscribe to this newsletter.


Navigation

About

Students

Faculty

Alumni

Newsletter

March 2020

February 2020

January 2020

December 2019

November 2019

September 2019

October 2019

Jobs in the Writing Lab
Tutoring Schedule & Locations
Schedule a tutoring appointment at any location with our online scheduler.
Please note: If you have issues logging in, please call the Writing Center for assistance scheduling your appointment
Phone: 765-494-3723
---
Virtual Hours (Summer 2020)
Only virtual appointments are available at this time.
Monday - Friday: 9:00 AM – 5:00 PM
---