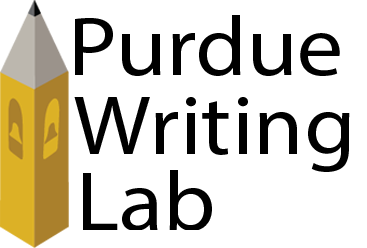 Welcome to the Purdue Writing Lab
This page is brought to you by the Writing Lab at Purdue University. When printing this page, you must include the entire legal notice.
---
Copyright ©1995-2018 by The Writing Lab & The OWL at Purdue and Purdue University. All rights reserved. This material may not be published, reproduced, broadcast, rewritten, or redistributed without permission. Use of this site constitutes acceptance of our terms and conditions of fair use.
---
"If I'm at the final stages of a paper but have trouble finishing, I've learned to listen to my body and take a break regardless of how close I am to the finish line. Pushing myself too far is unproductive."

-Elizabeth G, Tutor

The Writing Lab will be closed during Fall Break.  Don't procrastinate!  If you need an appointment make sure you get in before it's too late.

Is there a specific job that you've been wanting to / or are in the process of applying for? This workshop will help you tailor your résumé to meet that goal. Audience members are encouraged to bring computers/tablets and material(s) in progress to use during the workshop. 

Registration is required for all workshops.  Please visit our online schedule and choose the "Group Programs" schedule from the menu.  All workshops are held in HEAV 220, 1:30-2:30 PM. 

See all our workshops.

This fall the Writers' Room will be available the first and third Wednesday of every month from now until Dec 4.  All Writers' Rooms will be held in WALC 2124, 4 pm - 6 pm. The seats are powered, so feel free to bring laptops.

Registration is required.  Please visit our online schedule and choose the "Group Programs" schedule from the menu.

See all our Writers' Rooms.
Visit our daily conversation groups to enhance your English language skills weekdays between now and Dec 11.


Mon –  10:30 am-11:30 am
Tues (TV Snack Chat) – 1:30 pm-2:30 pm 
Wed – 3:30 pm-4:30 pm 
Thurs – 11:30 am-12:3A0 pm 
Fri – 10:30 am-11:30 am

Registration is required.  Please visit our online schedule and choose the "Group Programs" schedule from the menu.  All conversation groups are held in HEAV 220. 

Find more information on our conversation groups.
By Rachel A. & Ruben R., Tutors

If you're graduating soon, or attending a career fair, you are most likely in the midst of preparing application materials like cover letters and résumés. While any Writing Lab tutor can help you with any of your writing and we're trained to ask similar questions to those that hiring directors might themselves ask during a review of your materials or in an interview. 

The difficulty in preparing your job search documents frequently lies in choosing what to include and specifically what's important enough to include. Writing about yourself is hard! A tutor can provide assistance with organizing your past experiences into a meaningful narrative which can be utilized to cast you in an interesting light to a potential employer, whether you are coming straight out of school, lacking work experience or you are trying to fit years of accomplishments into a single page. 

We are also familiar with the conventions of résumés, cover letters, and CVs, and how to fine-tune your documents' content, design, and structure to fit their purpose. While some aspects of these documents need to remain the same (for instance, a cover letter's opening and closing), there are still ways in which you can tailor a document to your field and even to individual companies.  Our tutors can help you decide whether to go with a skills-based or chronological résumé, how to organize your cover letter, and how to format your CV, to name just a few. 

Writing Lab tutors can help you consider your documents in a different perspective than other campus job search resources. With a tutor, you can begin preparing for the next stages of the application process as you write your documents, and we can help tailor your documents to those next stages.

 

Get feedback!



Our trained tutors assist all writers at Purdue working on ANY writing project, at any stage of the writing process both in person and online.
 
 
 

The Weekly Writer

is published each week by the Writing Lab while classes are in session.  Please check our website owl.purdue.edu for more information on our services and hours.  

Contact Us: writing.lab@purdue.edu
Subscribe to this newsletter.


Navigation

About

Students

Faculty

Alumni

Newsletter

March 2020

February 2020

January 2020

December 2019

November 2019

September 2019

October 2019

Jobs in the Writing Lab
Tutoring Schedule & Locations
Schedule a tutoring appointment at any location with our online scheduler.
Please note: If you have issues logging in, please call the Writing Center for assistance scheduling your appointment
Phone: 765-494-3723
---
Virtual Hours (Summer 2020)
Only virtual appointments are available at this time.
Monday - Friday: 9:00 AM – 5:00 PM
---