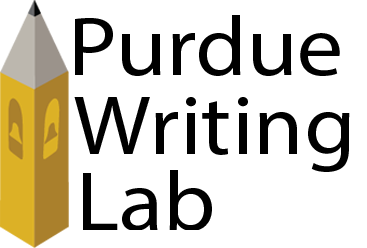 Welcome to the Purdue Writing Lab
This page is brought to you by the Writing Lab at Purdue University. When printing this page, you must include the entire legal notice.
---
Copyright ©1995-2018 by The Writing Lab & The OWL at Purdue and Purdue University. All rights reserved. This material may not be published, reproduced, broadcast, rewritten, or redistributed without permission. Use of this site constitutes acceptance of our terms and conditions of fair use.
---
October 26, 2017

The Weekly Writer
Maximize Your Session at the Writing Lab
By Ara A., Tutor
Before you come into the writing lab, know the requirements of your paper. Many instructors give detailed instructions about the focus of the paper, the format and the type of citations required. It is a good idea to bring these into your tutorial appointment. If you need help understanding the requirements of your paper, your tutor can also help you with that.
Give yourself enough time to work on your paper, don't come to the writing lab with only hours to spare before submission. While we welcome writers at any stage of writing, your tutorial will be more productive when you give yourself enough time to work on your paper before the deadline.
Before coming to the lab, know the areas of your paper that you want to work on. The tutorial time is limited and having areas of focus/concern will maximize the time that you have with your tutors. This is something you want to mention to your tutor at the beginning of your tutorial, so that they attempt to address your concerns.
Pay attention and engage your tutor during the tutorial, remember that it is still your paper. Take responsibility for your paper and your opinions in the paper. Also put aside any distractions during this time.
After the tutorial, ensure that you understand what the next steps are for your paper. Different tutors have different styles, some may give you a sheet with the next steps written down and others might just give you verbal instructions. Make sure that regardless of their preference, you leave the tutorial clearly knowing the next actions items for your paper.
Writing Lab News & Events
---
Workshop: Revising and Proofreading Drafts
November 1st, 1:30 - 2:30 PM
Proofreading is an essential skill for writers of all levels. In this workshop, we'll cover techniques that can help you make sure your writing is consistent, clear, and error-free. Bringing a draft to this workshop is highly recommended. Learn more »
Workshop: APA & MLA Style and Citation Practices
November 15th, 1:30 - 2:30 PM
To get the most out of this workshop, bring a draft. Join us to learn more about using sources in your writing, from your introduction to your bibliography. We will focus specifically on MLA and APA styles. Learn more »
Staff Spotlight
---
By Adrianna R., Tutor
My name is Adrianna, and I am a first-year graduate tutor in the Writing Lab. I may be new to the Writing Lab, but I have been part of the English graduate program at Purdue since 2012. I hold a BA (Morningside College, '09) and MA (Purdue, '14) in English and am currently working on my PhD in medieval English literature. My research explores travel and cross-cultural contact in the late medieval era, so one of the things I enjoy most about the writing center is working with clients from diverse cultural and linguistic backgrounds. As a writer, my favorite thing is that moment when my argument suddenly makes sense. My greatest struggle, however, is sitting down and getting those first words onto the page. My colleagues in the Writing Lab help me develop better writing habits so that I can enjoy the process more. If you make an appointment, I can help you with everything from brainstorming to grammar. Just don't let me start talking about Latin!
From Our Partners
---

Writing to Survive: A Reading and Conversation with Alicia Partnoy
October 26th, 2017, 6:00 - 7:15 PM
Krannert Auditorium
Poet, memoirist, scholar, and human rights activist Alicia Partnoy is the author of nine books. She is better known for The Little School: Tales of Disappearance and Survival, which was evidence in the trial against the genocide perpetrators that terrorized Argentina in the 70s. Partnoy's poetry collection, Flowering Fires/Fuegos florales, translated by Gail Wronsky, received the First Settlement House American Poetry Prize. A professor at Loyola Marymount University in Los Angeles, Partnoy presides over Proyecto VOS-Voices of Survivors. More information »

Poemas for Justice with Alicia Partnoy and Ruth Irupé Sanabria and Open Mic
October 27th, 2017, 6:00 - 8:00 PM
LCC
Join the LCC for a night of poesía which features Alicia Partnoy and Ruth Irupé Sanabria. At 7pm, we will have an open mic event. More information »

Native American Heritage Month Keynote Presentation: Uncovering Indigenous Identity
November 1st, 6:00 - 8:00 PM
STEW 214AB
A panel of Indigenous students, explore facets of Indigenous identity: sovereignty, self-determination, displacement, education, and awareness. Students will move a conversation often burdened by stereotypes and misinformation to discuss the barriers and insights they face. Facilitated by Terese Mailhot, Tecumseh Postdoctoral Fellow. More information »
Hours of Operation
Fall 2017
Aug 21 – Dec 13
Main Location
Heavilon Hall, Room 226
Mon – Thurs
9 AM – 6 PM
Fridays
9 AM – 1 PM
Evening Satellites
HSSE Library
Mondays
6 PM – 9 PM
AAARCC
Tuesdays
6 PM – 9 PM
ME Building
Wednesdays
6 PM – 9 PM
Connect With Us

Appointments

Twitter

Facebook
Writing Tip of the Week
"Vary sentence structure and word use to create a better flow in your paper."
-Mackenzie C., Tutor
Book of the Week
Writing Today by Richard Johnson-Sheehan and Charles Paine

Recommended by Eliza G., Tutor: "This textbook features a variety of resources for numerous different kinds of writing, with how-tos, explanations, examples, and even a style guide."
You can find this book in the Writing Lab's library. Just ask the front desk.
Navigation

About

Awards and Featured Articles

Students

Faculty

Alumni

Newsletter

Jobs in the Writing Lab
Writing Consultations
Schedule a writing consultation/tutoring appointment at any location or register for our group programs with our 
online scheduler
. 
Face-to-face (in-person), online (live video chat), and etutoring (emailed feedback) appointments available.
Please note: You must be a Purdue student, staff, or faculty member of the West Lafayette campus to use our writing consultation services or attend our group programs. For assistance scheduling your first appointment, we've prepared a helpful guide to using our online scheduler, WCO. 
---
Locations
2nd floor Krach leadership center (KRCH) 
Monday-Friday 9:00 am - 6:00 pm
HSSE Library Stewart Center
Monday-Friday 6:00 pm - 7:00 pm
Evening and weekend hours may be available at our satellite locations or virtually as late as 9:00 pm, please check our online schedule for details on current availability.
---
Contact us
Phone: (765) 494-3723
Fax: (765) 494-3780
Facebook | Twitter | Instagram | Youtube
Subscribe to the Writing Lab Newsletter
---