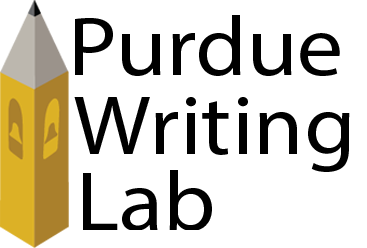 Welcome to the Purdue Writing Lab
This page is brought to you by the Writing Lab at Purdue University. When printing this page, you must include the entire legal notice.
---
Copyright ©1995-2018 by The Writing Lab & The OWL at Purdue and Purdue University. All rights reserved. This material may not be published, reproduced, broadcast, rewritten, or redistributed without permission. Use of this site constitutes acceptance of our terms and conditions of fair use.
---
October 11, 2017

The Weekly Writer
Complex Ideas and Clear Language in Technical Writing
By Henry S., Tutor
The purpose of a technical report is to communicate something sophisticated using succinct and transparent language. The best technical writing transforms complicated ideas into something digestible and interesting for multiple audiences: stakeholders, the general public, peers, your professor.
Because technical fields have so many terms that non-experts may find difficult to understand, it's important that the jargon you use is necessary and not there for the sake of making the report sound more academic. Your report's credibility is not measured by its use of impressive vocabulary or sharp grammar, it's measured by the effectiveness of its delivery of sound ideas: the substance. A Writing Lab tutor can help with limiting jargon to what is essential for communicating the facts.
Students in technical fields often construct sentences that contain multiple complicated statements, descriptions, and ideas; a root of this issue lies in inherent complexity of concepts particular to technical fields. You might be decribing a concept that possesses several stipulations, dependencies, relationships, or definitions. Writing Lab tutors can help make sure core information is not blocked by a wall of text.
An example of a suggestion your tutor might make is to use comparisons to explain complex ideas. During your session, you and your tutor can formulate creative, but effective, metaphors that will add personality and voice to your technical report while upholding professionalism.
If you want more information and one-to-one guidance about the language in your technical report, you can schedule an appointment with a Writing Lab tutor.
Writing Lab News & Events
---
Workshop: Integrating Sources into Writing Assignments
October 18th, 1:30 - 2:30 PM
Do you know how to compose and incorporate evidence-based paragraphs into your academic prose? Do you know what counts as good evidence? If not, this workshop may be your answer. "Integrating Sources into Writing Assignments" provides you with methods for integrating sources into your writing assignments through quoting, paraphrasing, and summarizing. Additionally, this workshop illustrates the ins and outs of credible source selection. Learn more »
Staff Spotlight
---
By Hadi B., Tutor
I am Hadi, one of the Writing Lab crew members, who try to reach out to the bigger community at Purdue. I am originally from Lebanon. Arabic is my first language, English is my second, and I have been taking French language classes here on campus. I moved to the US to pursue my PhD degree in Second Language Studies in 2015. I am not very nerdy all the time—I enjoy doing fun activities and exploring social networks hoping to exchange life experiences, conversations, and compassion. Through my encounters, I have come to reflect upon my own identity as it intersects and/or clashes with the identities of my tutees and students. To get to know more about my tutoring strategies and style, all you have to do is come visit us at the Writing Lab and work with me on your writing.
From Our Partners
---

NAECC Visiting Artist: DG House
October 12, 2017, 3:00 PM - 5:00 PM
NAECC, 903 5th St
DG House (Cherokee Nation of Northeastern Alabama) is a contemporary painter and focuses on Native people and wildlife of the Rocky Mountain west. Her workshop will focus on ledger art and historic Plains Indian narrative hide paintings. Advance registration is required at http://bit.ly/2uMX4hX. House is the featured artist for the fall 2017 Eiteljorg Museum's Artist-in-Residence program. Sponsored by NAECC in collaboration with the Eiteljorg Museum. More information »
Lunch and Learn: Conversation with Cesar Conde
October 13, 2017, 11:30 AM - 1:00 PM
Patti and Rusty Rueff Galleries (PAO)
Filipino-American artist Cesar Conde paints to celebrate humanity. Conde considers his work to be an homage to the oppressed, to those who suffer inequity and injustice. Conde believes art can serve as a platform for dialogue and debate, creating a safe space for reflection and a starting point for action and social justice. Though primarily self-taught, Cesar Conde has studied under master Patrick Betaudier at the Atelier Neo-Medici in France and Master John Michael Angel at the Angel Academy of Art in Italy. His paintings have been shown internationally, including exhibitions in the U.S., Italy, Taiwan, Austria, and the Philippines. Free and open to the public. More information »
Hours of Operation
Fall 2017
Aug 21 – Dec 13
Main Location
Heavilon Hall, Room 226
Mon – Thurs
9 AM – 6 PM
Fridays
9 AM – 1 PM
Evening Satellites
HSSE Library
Mondays
6 PM – 9 PM
AAARCC
Tuesdays
6 PM – 9 PM
ME Building
Wednesdays
6 PM – 9 PM
Connect With Us

Appointments

Twitter

Facebook
Writing Tip of the Week
"Reading books expands your vocabulary to use when writing."
-Mackenzie C., Tutor
Book of the Week
Controversies in Second Language Writing by Dana Ferris

Recommended by Taylor B., Tutor: "Instructors (and tutors) will find this book effectively discusses common issues found while learning the English Language, as well as the best paths for improvement."
You can find this book in the Writing Lab's library. Just ask the front desk.
Navigation

About

Awards and Featured Articles

Students

Faculty

Alumni

Newsletter

Jobs in the Writing Lab
Writing Consultations
Schedule a writing consultation/tutoring appointment at any location or register for our group programs with our 
online scheduler
. 
Face-to-face (in-person), online (live video chat), and etutoring (emailed feedback) appointments available.
Please note: You must be a Purdue student, staff, or faculty member of the West Lafayette campus to use our writing consultation services or attend our group programs. For assistance scheduling your first appointment, we've prepared a helpful guide to using our online scheduler, WCO. 
---
Locations
2nd floor Krach leadership center (KRCH) 
Monday-Friday 9:00 am - 6:00 pm
HSSE Library Stewart Center
Monday-Friday 6:00 pm - 7:00 pm
Evening and weekend hours may be available at our satellite locations or virtually as late as 9:00 pm, please check our online schedule for details on current availability.
---
Contact us
Phone: (765) 494-3723
Fax: (765) 494-3780
Facebook | Twitter | Instagram | Youtube
Subscribe to the Writing Lab Newsletter
---