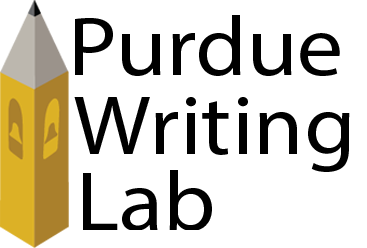 Welcome to the Purdue Writing Lab
This page is brought to you by the Writing Lab at Purdue University. When printing this page, you must include the entire legal notice.
---
Copyright ©1995-2018 by The Writing Lab & The OWL at Purdue and Purdue University. All rights reserved. This material may not be published, reproduced, broadcast, rewritten, or redistributed without permission. Use of this site constitutes acceptance of our terms and conditions of fair use.
---
October 04, 2017

The Weekly Writer
Workshop Follow-up: Statements of Purpose for Graduate School Applications
By Rachel A., Tutor
Did you miss today's workshop on statements of purpose for graduate school applications? That's okay! A one-on-one session with a Writing Lab tutor can help you start off right. If you're applying to professional schools (medical, veterinary, etc.) or graduate schools this fall, you'll likely be writing a personal statement and/or a statement of purpose. These essays are some of the most difficult parts of any application, and they may even be two of the most difficult genres to write, period.
One of the main reasons the two statements for grad applications are so difficult to write is that they force you to write about yourself. Having a tutor ask questions of you to draw out your experiences and your interests can help you figure out what to say and how to say it in your statements. We can help tailor what you include to the program you're applying to, and we can ask you questions much like the ones an admissions committee would ask, so that when it comes time to submit, you'll have anticipated some of the committee's responses and answered them in your statements.
Applying for graduate or professional school might be one of the most stressful processes in your life to date. Consider the Writing Lab as one more resource to help your application be the best it can be!
Writing Lab News & Events
---
Workshop: Integrating Sources into Writing Assignments
October 18th, 1:30 - 2:30 PM
Do you know how to compose and incorporate evidence-based paragraphs into your academic prose? Do you know what counts as good evidence? If not, this workshop may be your answer. "Integrating Sources into Writing Assignments" provides you with methods for integrating sources into your writing assignments through quoting, paraphrasing, and summarizing. Additionally, this workshop illustrates the ins and outs of credible source selection. Learn more »
Staff Spotlight
---
By Taylour R., Receptionist
I am a junior majoring in Speech, Language, and Hearing Sciences. This is my third year working as a receptionist at the Writing Lab and I have really enjoyed it. Working at the Writing Lab has allowed me to learn about all of the different services that are offered here and how they are helpful to everyone at Purdue. I have seen tutors who are so helpful to students that the students continue to return to the Lab for help on their assignments. The resources at the Writing Lab will definitely be helpful to me in the near future when I start applying for graduate schools and have to write resumes and personal statements.
Fun Fact: Over the summer, I got to meet my favorite author, John Green.
From Our Partners
---

Boilers OUT Loud!
October 3 & 4, 2017, 7:00 PM - 8:00 PM
Mallett Theatre (PAO)
Boilers OUT Loud! is a collection of funny, interesting, exciting, serious, creative, poignant, sometimes embarrassing but always REAL stories authored and performed by Purdue University students, faculty, and staff. These monologues shed light on the process of "Coming Out," or sharing our identities with the world. Each unique story explores the diverse experiences and perspectives of LGBTQ people and their straight allies while also highlighting the power of the spoken word to educate and empower. More information »

Lecture by Alison Kafer, Author of Feminist, Queer, Crip
October 5, 5:00 - 6:30 PM
STEW 313
In Feminist, Queer, Crip, Alison Kafer imagines a different future for disability and disabled bodies. Challenging the ways in which ideas about the future and time have been deployed in the service of compulsory able-bodiedness and able-mindedness, Kafer rejects the idea of disability as a pre-determined limit. She juxtaposes theories, movements, and identities such as environmental justice, reproductive justice, cyborg theory, transgender politics, and disability that are typically discussed in isolation and envisions new possibilities for crip futures and feminist/queer/crip alliances. This bold book goes against the grain of normalization and promotes a political framework for a more just world. More information »

Asian American Studies Colloquium Series presents Dr. Linda Trinh Võ: "(Re)Constructing Refugee Narratives and Archives"
October 5, 2017, 11:00 AM - 12:15 PM
HEAV G4
Dr. Võ (Ph.D. Sociology, UC San Diego) is a Professor in the Department of Asian American Studies and Director of the Vietnamese American Oral History Project at the University of California, Irvine. She authored Mobilizing an Asian American Community, co-authored Vietnamese in Orange County, and co-edited Contemporary Asian American Communities: Intersection and Divergences; Asian American Women: The "Frontiers" Reader; Labor Versus Empire: Race, Gender, and Migration; and Keywords for Asian American Studies. She was President of the national Association for Asian American Studies and is Co-Chair of the Community Advisory Council for Asian Americans Advancing Justice—Orange County. More information »

National Coming Out Day CookOUT
October 10, 11:00 AM - 3:00 PM
Green space behind NAECC
Join us to celebrate National Coming Out Day! We'll have food (vegetarian options available), games, and fun! More information »

NAECC Visiting Artist: DG House
October 12, 2017, 3:00 PM - 5:00 PM
NAECC, 903 5th St
DG House (Cherokee Nation of Northeastern Alabama) is a contemporary painter and focuses on Native people and wildlife of the Rocky Mountain west. Her workshop will focus on ledger art and historic Plains Indian narrative hide paintings. Advance registration is required at http://bit.ly/2uMX4hX. House is the featured artist for the fall 2017 Eiteljorg Museum's Artist-in-Residence program. Sponsored by NAECC in collaboration with the Eiteljorg Museum. More information »
Hours of Operation
Fall 2017
Aug 21 – Dec 13
Main Location
Heavilon Hall, Room 226
Mon – Thurs
9 AM – 6 PM
Fridays
9 AM – 1 PM
Evening Satellites
HSSE Library
Mondays
6 PM – 9 PM
AAARCC
Tuesdays
6 PM – 9 PM
ME Building
Wednesdays
6 PM – 9 PM
Connect With Us

Appointments

Twitter

Facebook
Writing Tip of the Week
"Know you audience before writing a paper. Adjust your paper to communicate effectively to that given audience."
-Mackenzie C., Tutor
Book of the Week
Response to Student Writing: Implications for Second Language Students by Dana Ferris

Recommended by Hadi M., Tutor: "This is a rich resource for instructors and tutors which facilitates responding to second language writers' texts because it provides effective guidelines and strategies inspired by second language writing theory, research, and L2 writers' perspectives."
You can find this book in the Writing Lab's library. Just ask the front desk.
Navigation

About

Awards and Featured Articles

Students

Faculty

Alumni

Newsletter

Jobs in the Writing Lab
Writing Consultations
Schedule a writing consultation/tutoring appointment at any location or register for our group programs with our 
online scheduler
. 
Face-to-face (in-person), online (live video chat), and etutoring (emailed feedback) appointments available.
Please note: You must be a Purdue student, staff, or faculty member of the West Lafayette campus to use our writing consultation services or attend our group programs. For assistance scheduling your first appointment, we've prepared a helpful guide to using our online scheduler, WCO. 
---
Locations
2nd floor Krach leadership center (KRCH) 
Monday-Friday 9:00 am - 6:00 pm
HSSE Library Stewart Center
Monday-Friday 6:00 pm - 7:00 pm
Evening and weekend hours may be available at our satellite locations or virtually as late as 9:00 pm, please check our online schedule for details on current availability.
---
Contact us
Phone: (765) 494-3723
Fax: (765) 494-3780
Facebook | Twitter | Instagram | Youtube
Subscribe to the Writing Lab Newsletter
---