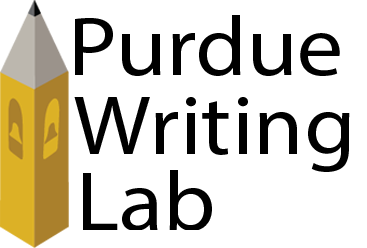 Welcome to the Purdue Writing Lab
This page is brought to you by the Writing Lab at Purdue University. When printing this page, you must include the entire legal notice.
---
Copyright ©1995-2018 by The Writing Lab & The OWL at Purdue and Purdue University. All rights reserved. This material may not be published, reproduced, broadcast, rewritten, or redistributed without permission. Use of this site constitutes acceptance of our terms and conditions of fair use.
---
 

As we approach the end of the semester...

We will be closed on November 28 and 29 for Thanksgiving.  Our last day this semester to schedule an appointment will be Dec 11.  Schedule appropriately if you need an appointment!!

 

Things to Do

Today - Genre Analysis: Theses & Dissertations

In this workshop, the final component of the Genre Analysis series, presentation materials will scaffold from previous workshops to culminate in a discussion about genres surrounding thesis and dissertation writing. Audience members are encouraged to bring computers/tablets and material(s) in progress to the workshop

All workshops are held in HEAV 220, 1:30-2:30 PM.

Registration is required and open to all Purdue students, staff, and faculty. Please visit our online schedule and choose the "Group Programs" schedule from the menu to register.

This is the final workshop of 2019.

Today - Writer's Room

This fall the Writers' Room will be available the first and third Wednesday of every month from now until Dec 4.  All Writers' Rooms will be held in WALC 2124, 4 pm - 6 pm. The seats are powered, so feel free to bring laptops.

Registration is required and open to all Purdue students, staff, and faculty. Please visit our online schedule and choose the "Group Programs" schedule from the menu to register.

Our next and last Writers' Room of 2019 will be held on Dec 4.




Weekdays - Conversation Groups

Visit our daily conversation groups to enhance your English language skills weekdays between now and Dec 11.  All conversation groups are held in HEAV 220.

Mon –  10:30 am-11:30 am
Tues (TV Snack Chat) – 1:30 pm-2:30 pm 
Wed – 3:30 pm-4:30 pm 
Thurs – 11:30 am-12:3A0 pm 
Fri – 10:30 am-11:30 am

Registration is required and open to all Purdue students, staff, and faculty.  Please visit our online schedule and choose the "Group Programs" schedule from the menu to register.



The last conversation group of 2019 will be held on Dec 6.

In the Spotlight

Meet Our Staff

By Austin S.

Hey everyone! My name is Austin and I'm about to move into my 3rd year at the Writing Lab. My role is currently split between working as one of the undergraduate tutors and also as one of the UTA coordinators. Tutoring has provided me with an incredibly unique perspective contrasting to what I usually encounter. Being a Senior in Mechanical Engineering, I typically do not have to worry about educating and communicating ideas between my fellow peers. We all have a similar understanding of the content and work with each other to complete our assignments. However, with tutoring I have found that this has pushed me to be more empathetic and understanding of working with people.

Over the years, tutoring for me has become more about teaching and educating the client to help build their confidence and understanding within writing. It's easy to want to correct all the mistakes a client might have, but I work to remind myself that it is better to help them develop the skills to evaluate their own writing. In this sense, I favor working as a facilitator or educator to help the client identify any errors in their writing, and then giving them the tools to understand why it was an error in the first place. This mindset has helped me form well-developed opinions in my own work and I enjoy teaching these skills to all of my clients so that they can work to become independent and confident writers.

The other aspect I enjoy about tutoring is that you do not often take on the role of the expert. You are, in all essence, a student helping a fellow student with their work, and as a student, you can empathize with a client over the daily struggles of school work. Rapport is one of my favorite aspects of tutoring because you meet so many unique and diverse people, every interaction is fun and engaging whether it is with an electrical engineer writing a dissertation over solid state data storage or a communications major applying for an internship wanting to work on a cover letter. You learn about each person and calibrate your behavior to effectively help them learn and gain confidence in their work.

I look forward to continuing working in the Writing Lab until I graduate, and I cannot wait to keep passing on what I have learned in this job. One of the largest advantages I have gained from the Lab is the ability to communicate between a variety of fields and people, and I am genuinely excited to see where I am able to go with these experiences.


Other Things to Do

From Our Campus Partners

LGBTQ Center


Wellness Wednesdays:  Yoga & Meditation


Today

, 3:30pm-4:30pm
Co-Rec MP1 

Hosted by the LGBTQ Center in partnership with Rec-Well.  Limited to 30 participants; equipment will be provided.  Every Wednesday from 8/14/2019 to 11/20/2019.  Join us for an opportunity to de-stress through some yoga and meditation!

If you are participating in our Mental Health and Substance Use Among LGBTQ+ Students Survey, we invite and encourage you to participate in Wellness Wednesdays!




BCC


Gaming, Animation, and What's Trending


Today

, 4:30 pm
BCC

There will be a panel on Wednesday, November 20th at 4:30 pm at the BCC featuring Jeron Braxton and Tion Thomas. Thomas is a Purdue alumnus who earned his MA in Computer Science from Purdue in 2009. He has over 15 years' experience in the industry and currently works as a Developer Relations Field Application Engineer for Razer Inc.   

The panel will be a lively discussion and presentation of the intersection of gaming, animation and what's trending in the field of gaming. RSVP for the Panel at tinyurl.com/digitaliabcc.

LGBTQ Center


Trans Day of Remembrance


Today

, 5:30pm
BRNG 1255

Presented by QSTEM, Trans Day of Remembrance is an event to honor the memory of transgender people who lost their lives in 2019.

English


BIG READ Bite-Sized Book Discussions


Today

, 6:00pm
Second Flight Books

Books 16-20 of Emily Wilson's translation of The Odyssey. Free and open to the public. 

LGBTQ Center


HIV Awareness Week
November 18-22, Various times; see below!
BCC

The LGBTQ Center is partnering with the College of Health and Human Sciences and the Black Cultural Center to sponsor HIV/AIDS Awareness Week 2019!

HIV/AIDS Awareness Week is dedicated to raising awareness of the AIDS pandemic, the height of which was experienced from 1987-1996, caused by the spread of HIV infection. HIV/AIDS Awareness Week programming is meant to increase the campus community's awareness of HIV/AIDS, its impact on the local and global population, and historical and current issues. 

The week's activities are:

The NAMES Project AIDS Memorial Quilt will be on display Monday through Friday, Nov. 18-22, from 10am-4pm in the Black Cultural Center MP1. Tours of the Quilt, both individually and for classes, are led by LGBTQ Center staff members. We highly encourage you to set up a tour of the Quilt for your class or for yourself; to do so please contact LGBTQ Center Coordinator Kelsey Chapman at chapma21@purdue.edu.



Safer Sex Kit creation


Thursday, 11/21 | BCC MP 1 | 10am-2pm



Free and Confidential HIV Screening offered by Aspire Indiana


Friday, 11/22 | BCC MP 3 | 8am-5pm

BCC


Opportunities & Outlook in the Gaming Industry
November 21, 11 am -1 pm
HAAS 111

Tion Thomas will be the featured luncheon speake. His topic will be: "Opportunities & Outlook in the Gaming Industry."  Please RSVP at http://bit.ly/Tion2019 by November 18th.

AAARCC


A Flow of Tranquility
November 21, 12 pm -1 pm
AAARCC, 915 5th St

A showcase of traditional Chinese paintings featuring guest artist Jiaping Zhao.

NAECC




"Toward Equity-Oriented K-12 Classrooms: Challenging Deficit Views of Science Teaching and Learning" NAECC Indigenous Alumni Speaker Series presents Dr. Candice Guy-Gaytán


November 21, 2:00 - 3:30 pm
NAECC

This speaker series features distinguished Native American, Alaska Native, and Native Hawaiian Purdue alumni who are making outstanding contributions in Native American communities and accomplishments in their profession. Dr. Candice Guy-Gaytán represents the Delaware Tribe of Indians and is an Assistant Professor of Science Education at the University of Nevada Reno. She received her B.S. and M.S. in Biology from Purdue University and her Ph.D. in Science Education from the University of California, Davis. Sponsored by NAECC in collaboration with SIGP Program.


BCC


Healthy Eating with Corec
November 26, 4:00 - 6:00 pm
BCC

Part of the Turbo Tuesday/Thriving Thursday Series.

 

Get feedback!



Our trained tutors assist Purdue students, staff, and faculty working on ANY writing project, at any stage of the writing process both in person and online.
 
 
 

The Weekly Writer

is published each week by the Writing Lab while classes are in session.  Please check our website owl.purdue.edu for more information on our services and hours.  

Contact Us: writing.lab@purdue.edu
Subscribe to this newsletter.


Navigation

About

Students

Faculty

Alumni

Newsletter

March 2020

February 2020

January 2020

December 2019

November 2019

September 2019

October 2019

Jobs in the Writing Lab
Tutoring Schedule & Locations
Schedule a tutoring appointment at any location with our online scheduler.
Please note: If you have issues logging in, please call the Writing Center for assistance scheduling your appointment
Phone: 765-494-3723
---
Virtual Hours (Summer 2020)
Only virtual appointments are available at this time.
Monday - Friday: 9:00 AM – 5:00 PM
---