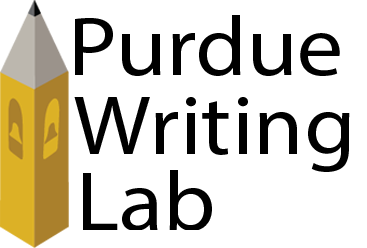 Welcome to the Purdue Writing Lab
This page is brought to you by the Writing Lab at Purdue University. When printing this page, you must include the entire legal notice.
---
Copyright ©1995-2018 by The Writing Lab & The OWL at Purdue and Purdue University. All rights reserved. This material may not be published, reproduced, broadcast, rewritten, or redistributed without permission. Use of this site constitutes acceptance of our terms and conditions of fair use.
---
 

Writing Tip

"Close your laptop or turn your paper over and just talk to about what you're trying to convey."


-Tamara R., Tutor

 

Nov 20 - Genre Analysis: Theses & Dissertations

In this workshop, the final component of the Genre Analysis series, presentation materials will scaffold from previous workshops to culminate in a discussion about genres surrounding thesis and dissertation writing. Audience members are encouraged to bring computers/tablets and material(s) in progress to the workshop

All workshops are held in HEAV 220, 1:30-2:30 PM.

Registration is required and open to all Purdue students, staff, and faculty. Please visit our online schedule and choose the "Group Programs" schedule from the menu to register.

This fall the Writers' Room will be available the first and third Wednesday of every month from now until Dec 4.  All Writers' Rooms will be held in WALC 2124, 4 pm - 6 pm. The seats are powered, so feel free to bring laptops.

Registration is required and open to all Purdue students, staff, and faculty. Please visit our online schedule and choose the "Group Programs" schedule from the menu to register.
Visit our daily conversation groups to enhance your English language skills weekdays between now and Dec 11.  All conversation groups are held in HEAV 220.


Mon –  10:30 am-11:30 am
Tues (TV Snack Chat) – 1:30 pm-2:30 pm 
Wed – 3:30 pm-4:30 pm 
Thurs – 11:30 am-12:3A0 pm 
Fri – 10:30 am-11:30 am

Registration is required and open to all Purdue students, staff, and faculty.  Please visit our online schedule and choose the "Group Programs" schedule from the menu to register.
A Multilingual Writer's Perspective on Writing
By Sungae K.

Recently, I came across sessions where the clients talked about their hesitation to come to the Writing lab. The conversation that I had with the client was, "I worried that I couldn't come without any preparation." Many people, especially multilingual and/or inexperienced writers, do not feel comfortable asking for help when they struggle with writing. This incident led me to question, "Why don't some writers feel comfortable coming to the Writing Lab."

First of all, different cultural backgrounds may contribute to a writer's attitude toward seeking help. In some cultures, writing is not perceived as a "process" while it's common in the context of North America to discuss the "process of writing." Specifically, generating initial ideas, creating an outline, writing an initial draft, revising the draft, and making edits to produce a final copy is not a difficult process for writers who are trained with these particular strategies. However, the writing process can be an arduous journey for some writers especially for multilingual writers as they struggle to move beyond drafting and into the next stage of the writing process. Specifically, they would think that they have written all that they know about the topic in the first draft and underestimate the fact that there is always room for improvement by revising. Consequently, they'll visit the Writing center at the last minute only for grammar help.

Second, multilingual writers often experience difficulty with the planning stage of the writing process. Although they have had plenty of opportunities reading scholarly articles and professional works in the past, it's not sufficient for those who have not had successful experiences in the writing process. Without knowing how to appropriately outline the paper, readers would fail to read the story the way you want them to read it and to hold their interest. Additionally, many multilingual writers have ideas to include in the paper, but struggle with organizing relevant information in order. From the multilingual writer's perspective, I myself found that sometimes it is beneficial to talk through your ideas with someone and ask help with your writing at any stage of the writing process.

As a tutor in the Writing Lab, I would like to encourage multilingual writers to ask for help as often as needed. It is not necessary to bring a complete version of your paper and it's totally fine to come with only ideas about the project. Come visit us, writers! The Writing Lab can help you with any stage of your writing process and we would love to enjoy the writing process with you!


LGBTQ Center


Wellness Wednesdays:  Yoga & Meditation


Today

, 3:30pm-4:30pm
Co-Rec MP1 

Hosted by the LGBTQ Center in partnership with Rec-Well.  Limited to 30 participants; equipment will be provided.  Every Wednesday from 8/14/2019 to 11/20/2019.  Join us for an opportunity to de-stress through some yoga and meditation!

If you are participating in our Mental Health and Substance Use Among LGBTQ+ Students Survey, we invite and encourage you to participate in Wellness Wednesdays!




BCC


Joe Barry Carroll


Today

, 6:30 pm
Honors Hall

Joe Barry Carroll will speak as part of the Visiting Scholars Series.
AAARCC


Diaspora:  Navigating Asian American Identity in America




Today

, 7:00-8:30 p.m. 
WALC 1018

With major historical events like the Vietnam War and the U.S. occupation of the Philippines, there is a generation of Asian Americans that are here because of the efforts of our parents.  We want to share the stories of the great journeys our predecessors went through to make it to America and how we as Asian Americans navigate our ethnic Asian identities with our Western upbringing.
AAARCC


Civic Engagement & Leadership Development


November 14, 2019 at 12:00-1:00 p.m. 
AAARCC (915 5th Street)

Part of the lunch and learn series.  Lunch will be provided.


NAECC




Visiting Artist featuring Kathy Dickerson (Kiowa)


November 14, 1:00 - 3:00 pm
NAECC

Katherine "Kathy" Dickerson (Kiowa) has spent her entire life learning the craft, culture, and history of her tribe from elders and family. Join us for an afternoon presentation filled with her knowledge of Kiowa history through storytelling, songs, and artwork. Dickerson is the featured artist for the fall 2019 Eiteljorg Museum's Artist-in-Residence program. Sponsored by NAECC in collaboration with the Eiteljorg Museum.


LGBTQ Center


Fabulous Friday: Shaving Cream Art with Valerie!
November 15, 11:00am-4:00pm
LGBTQ Center (SCHL 230)

Valerie Milholland is a Registered Art Therapist who did her graduate work at the University of Louisville. She runs the undergraduate art therapy program at the University of Evansville. Her areas of expertise are adolescent individuation, creative development and compassion fatigue.

She is excited to present one of her favorite techniques to the students and faculty of Purdue, to allow them to experience the power of using art to decrease stress and anxiety.

Fridays are fabulous in the LGBTQ Center! Every Friday during the academic year, we make Fridays fabulous by inviting the campus community to join us in social and self-care activities, such as crafts, board games, and skills development. Participants can meet new friends, learn more about the LGBTQIA+ community, and de-stress before the weekend. Read more about Fabulous Fridays here.




NAECC




Aloha Fridays – Native Hawaiian Plants and DIY Plant Party


November 15, 1:00 – 3:00 pm
NAECC

Celebrated on the Hawaiian Islands as an end to the work week, we're bringing some "Aloha" to Purdue by exploring and honoring Native Hawaiian cultures and traditions. Join us as we gather and "talk story" about the cultural and spiritual connection between the Earth and Hawaiian plants. At the conclusion of the presentation, spend some time painting a clay pot and plant your succulent to take with you. Sponsored by NAECC in collaboration with the Polynesian Culture Club of Purdue.


LGBTQ Center


HIV Awareness Week
November 18-22, Various times; see below!
BCC

The LGBTQ Center is partnering with the College of Health and Human Sciences and the Black Cultural Center to sponsor HIV/AIDS Awareness Week 2019!

HIV/AIDS Awareness Week is dedicated to raising awareness of the AIDS pandemic, the height of which was experienced from 1987-1996, caused by the spread of HIV infection. HIV/AIDS Awareness Week programming is meant to increase the campus community's awareness of HIV/AIDS, its impact on the local and global population, and historical and current issues. 

The week's activities are:

The NAMES Project AIDS Memorial Quilt will be on display Monday through Friday, Nov. 18-22, from 10am-4pm in the Black Cultural Center MP1. Tours of the Quilt, both individually and for classes, are led by LGBTQ Center staff members. We highly encourage you to set up a tour of the Quilt for your class or for yourself; to do so please contact LGBTQ Center Coordinator Kelsey Chapman at chapma21@purdue.edu.



Film screening of "Common Threads"


Monday 11/18 | BCC MP3 | 6pm-7:30pm



"New Innovations in HIV Research:" a panel discussion


Tuesday 11/19 | BCC Formal Lounge| 6pm-7pm



Safer Sex Kit creation


Thursday, 11/21 | BCC MP 1 | 10am-2pm



Free and Confidential HIV Screening offered by Aspire Indiana


Friday, 11/22 | BCC MP 3 | 8am-5pm

BCC


Gaming, Animation, and What's Trending
November 20, 4:30 pm
BCC

There will be a panel on Wednesday, November 20th at 4:30 pm at the BCC featuring Jeron Braxton and Tion Thomas. Thomas is a Purdue alumnus who earned his MA in Computer Science from Purdue in 2009. He has over 15 years' experience in the industry and currently works as a Developer Relations Field Application Engineer for Razer Inc.   

The panel will be a lively discussion and presentation of the intersection of gaming, animation and what's trending in the field of gaming. RSVP for the Panel at tinyurl.com/digitaliabcc.

LGBTQ Center


Trans Day of Remembrance
November 20, 5:30pm
BRNG 1255

Presented by QSTEM, Trans Day of Remembrance is an event to honor the memory of transgender people who lost their lives in 2019.

BCC


Opportunities & Outlook in the Gaming Industry
November 21, 11 am -1 pm
HAAS 111

Tion Thomas will be the featured luncheon speake. His topic will be: "Opportunities & Outlook in the Gaming Industry."  Please RSVP at http://bit.ly/Tion2019 by November 18th.

NAECC




"Toward Equity-Oriented K-12 Classrooms: Challenging Deficit Views of Science Teaching and Learning" NAECC Indigenous Alumni Speaker Series presents Dr. Candice Guy-Gaytán


November 21, 2:00 - 3:30 pm
NAECC

This speaker series features distinguished Native American, Alaska Native, and Native Hawaiian Purdue alumni who are making outstanding contributions in Native American communities and accomplishments in their profession. Dr. Candice Guy-Gaytán represents the Delaware Tribe of Indians and is an Assistant Professor of Science Education at the University of Nevada Reno. She received her B.S. and M.S. in Biology from Purdue University and her Ph.D. in Science Education from the University of California, Davis. Sponsored by NAECC in collaboration with SIGP Program.


BCC


Healthy Eating with Corec
November 26, 4:00 - 6:00 pm
BCC

Part of the Turbo Tuesday/Thriving Thursday Series.

 

Get feedback!



Our trained tutors assist Purdue students, staff, and faculty working on ANY writing project, at any stage of the writing process both in person and online.
 
 
 

The Weekly Writer

is published each week by the Writing Lab while classes are in session.  Please check our website owl.purdue.edu for more information on our services and hours.  

Contact Us: writing.lab@purdue.edu
Subscribe to this newsletter.


Navigation

About

Students

Faculty

Alumni

Newsletter

March 2020

February 2020

January 2020

December 2019

November 2019

September 2019

October 2019

Jobs in the Writing Lab
Tutoring Schedule & Locations
Schedule a tutoring appointment at any location with our online scheduler.
Please note: If you have issues logging in, please call the Writing Center for assistance scheduling your appointment
Phone: 765-494-3723
---
Virtual Hours (Summer 2020)
Only virtual appointments are available at this time.
Monday - Friday: 9:00 AM – 5:00 PM
---