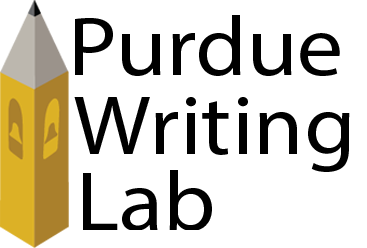 Welcome to the Purdue Writing Lab
This page is brought to you by the Writing Lab at Purdue University. When printing this page, you must include the entire legal notice.
---
Copyright ©1995-2018 by The Writing Lab & The OWL at Purdue and Purdue University. All rights reserved. This material may not be published, reproduced, broadcast, rewritten, or redistributed without permission. Use of this site constitutes acceptance of our terms and conditions of fair use.
---
| | | |
| --- | --- | --- |
|   | How you would like to hear about Writing Lab programs and services.  Please take a few moments to complete our survey and let us know. |   |

Things to Do

Today

- Workshop: Optimize Your Writing Lab Session

Whether you're working on a quick-hit assignment, a seminar paper, and/or a much more complex writing project, this introductory workshop is geared toward helping you prepare to make the most out of each tutoring consultation. Audience members are encouraged to bring computers/tablets and material(s) in progress to use during the workshop.



All workshops are held in HEAV 220, 1:30-2:30 PM.



Registration is required and open to all Purdue students, staff, and faculty. Please visit our online schedule and choose the session you want under the "Group Programs" schedule.


Weekdays 

- Conversation Groups



Visit our daily conversation groups to enhance your English language skills weekdays between Jan 27 - May 1.  All conversation groups are held in HEAV 220. 


Mondays 3:30 - 4:30 PM 
Tuesdays 10:30 - 11:30 AM
Wednesdays 3:30 - 4:30 PM 
Thursdays (Snack Chat) | 1:30 - 2:30 PM
Fridays | 11:30 - 12:30 PM

Registration is required and open to all Purdue students, staff, and faculty.  Please visit our online schedule and choose the session you want under the "Group Programs" schedule.

Snacks will be provided on Thursdays.

Feb 10

 

- Writers' Room

Writers' Rooms are dedicated times and places for writers of all stripes to work on their academic writing projects (e.g. class assignments, scholarly articles, dissertations, etc.). Writers should plan to spend most of the two-hour block in independent writing; however, Writing Lab tutors will be available for very brief, limited consultations if concerns arise during the writing time.

Writers should bring whatever materials they need for successful work on their projects, including laptops, books and articles, style guides, research data, white board markers, pens, paper, etc.



Join us on Feb 10 & 24, Mar 9 & 23, Apr 13 & 27.

  

All Writers' Rooms are 3:30pm - 5:30pm and located in WTHR 420

.


Registration is required and open to all Purdue students, staff, and faculty. Please visit our online schedule and choose the session you want under the "Group Programs" schedule.



Earn a special prize when you attend at least 5!





In the Spotlight

Outlining

:

Faster and more Efficient than Winging It

By Henry S., Tutor

Sun Tzu said, "Every battle is won before it is ever fought." A strong outline helps you recognize where your underdeveloped arguments are, and provides a pseudo-pictorial tool to follow the logic of your report. You can recognize the weight of each paragraph and section by the effectiveness of your bullet points. And once you have placed your information, you can transform your outline into a paper by implementing transitions, punctuations, segues, etc. Outlining will not only save you time and stress in the long-run, but it will also do the same for your professor and peers.

A general outline develops from top to bottom. First conceptualize what your purpose is and write it as one extremely specific sentence. The rest of the document should be written to support whatever that sentence is. Whether it is a critical lens essay, a technical report, or a short story, we can help make sure everything you write onward contribute to the efforts of that extremely specific sentence.

Then think about what the most important or interesting points to your argument are, and make them into major bullet-points. The sub-bullet-points will be the arguments and descriptions that defend your major bullet-points. At the Writing Lab we can help you determine when you've provided enough substance. Afterwards, copy-and-paste and organize those bullet-point sections into a logical sequence.

If you want more information about outlining or a one-on-one tutorial on the process, consider scheduling an appointment with a tutor from the Writing Lab. We are more than happy to elaborate on the details of the process.


Other Things to Do




From Our Campus Partners

LGBTQ Center




Queer Grad Coffee Hour




Spring 2020


     
We are exploring opportunities to engage and support LGBTQIA+ graduate students and we need your help! We are seeking participants in a 5-6 minute confidential survey to gauge interest in graduate student-specific programming.

Please click here for access to the survey.

In Spring 2020, the LGBTQ Center will host a regular Queer Coffee Hour to create an intentional space for LGBTQIA+ graduate students to connect with one another in a closed setting. The goal of this program is to create a social network for LGBTQIA+ graduate students, provide connections to resources, and identify unmet needs. Coffee and light refreshments will be provided! Please reach out tolgbtq@purdue.edu if you have any questions.

LGBTQ Center




Peer Support Group




Today

, 4:30pm - 6:00pm
SCHL 230        

Our Peer Support Groups will begin on January 22nd and run weekly (with the exception of 2/26) from 4:30pm-6:00pm at the LGBTQ Center (dinner will be provided).

The topics for the support group include: Stress, Mental Health, Relationships, and Substance Use and will be facilitated by a trained therapist from CAPS. The purpose of the support group is to provide a safe and welcoming space for LGBTQ students on campus to discuss issues that are relative to their well-being (particularly mental well-being) and to create social support systems that facilitate positive outcomes.




AAARCC        




Week of Lunar New Year Activities




January 27-January 31

     
915 5th St, West Lafayette            

Stop by the AAARCC and take part in the activities during the week to celebrate Lunar New Year.

Jan 27 - Almond Cookies and Calligraphy
Jan 28 - Red Envelopes, Oranges, Card Games
Jan 29 - Dumplings
Jan 30 - Tang Yuan & Fortune Cookies
Jan 31 - Mahjong & Movies


AAARCC        




Lunch and Learn: Agricultural Economics Department




January 30

, 12:00pm - 1:00pm        
PMU Anniversary Drawing Room         

Guest Speaker:  Dr. Joan Fulton and Dr. Holly Wang

The lunch and learn series is every Thursday during the semester 12pm - 1pm at the AAARCC.


NAECC    




Spring Film Series:  "Urban Rez"




January 30

, 6:00pm - 7:00pm        
NAECC         

"The Voluntary Relocation Program, spanning from 1952-1973, was the greatest voluntary upheaval of Native Americans during the 20th century. Rocky Mountain PBS' newest documentary, Urban Rez, explores the lasting legacy of the relocation policies that encouraged Native Americans to leave their homeland and relocate to urban area across the country"- PBS. Documentary, 2013, PBS, Not Rated, run time: 57 minutes.


LGBTQ Center




Fabulous Friday: Soup-er Bowl




Jan 31

, 11:00am - 4:00pm
SCHL 230        

It's an annual favorite! Stop by for our own version of the Soup-er Bowl for this Foodie Friday!

The LGBTQ Center selected Fridays because it records its highest daily visitation on that day and encounters a number of students who may benefit from accessing community support and resources before the weekend begins. For more information about Fabulous Fridays, please click here.




AAARCC        




Lunar New Year Celebration




February 1

, 11:00am - 2:00pm        
CoRec Feature Gym              

Join the Purdue community and learn how the New Year is celebrated across cultures!  Featuring organizations' activity booths, Chinese Performing Arts Troupe, Lion Dance, Taekwondo, Okinawa Yuyukai, along with tasty food, and more as we celebrate the Lunar New Year!

CoRec parking lot A/B/C spots available for free during this event (unless marked "Reserved").  Please enter the building from the entrance facing Martin Jischke Dr to access the Feature Gym.


LGBTQ Center & BCC




A Conversation with Ryan Russell




February 5

, 6:00pm
Fowler Hall (STEW)             

Everyone is welcome! Free and open to all!

Ryan Russell is a Purdue alumnus & professional football player in the NFL, a published poet, writer, and artist. On August 29th, 2019 Ryan came out to the world as the 1st active NFL player to identify as bisexual.

Our major program series are excellent opportunities for cultural immersion projects. Please consider encouraging your students to our programs to learn about LGBTQIA+ communities and experiences!

Please visit our website for more information.

Sponsored by: Purdue Athletics; LGBTQ Center; Black Cultural Center; Honors College, College of HHS Division of Diversity and Inclusion


AAARCC        




Lunch and Learn: Disability Resource Center




February 6

, 12:00pm - 1:00pm        
PMU Anniversary Drawing Room         

The lunch and learn series is every Thursday during the semester 12pm - 1pm at the AAARCC.  Lunch will be provided.


English 




2020 Books & Coffee




February 6

, 4:00pm     
STEW 302/306         

Week 1 with Professor Erin Moodie speaking on Madeline Miller's Circe. Sponsored by the Department of English and the Purdue Student Union Board.


NAECC    




Book Discussion: "Heart Berries"




February 7

, 1:00pm - 2:30pm        
NAECC         

Terese Marie Mailhot's first book "Heart Berries" continues to gain national recognition and is featured as the January 2020 pick by the PBS NewsHour-New York Times "Now Read This" book club. Join us as she discusses her memoir growing up on Seabird Island Indian Reservation in British Columbia, Canada and surviving trauma and mental illness.

Sponsored by: NAECC, Purdue Four Directions Initiative-Tecumseh Post Doc Fellowship, Native American and Indigenous Studies Program.       


 

Get feedback!


Our trained tutors can assist Purdue students, staff, and faculty working on ANY writing project, at any stage of the writing process both in person and online.
 
 
 

The Weekly Writer

is published each week by the Writing Lab while classes are in session.  Please check our website owl.purdue.edu for more information on our services and hours.

Instructors, want us to teach your students about the lab?  Request a  remote lab tour.

Contact Us: writing.lab@purdue.edu
Call Us: (765)494-3723

Please share and encourage Purdue staff, faculty, and students to subscribe to this newsletter.



Main Location


Heavilon Hall
Room 226
Monday - Thursday 9am - 6pm  
Friday 9am - 5pm       



Satellites


Hicks Undergraduate Library
Find us near the information desk
Tues, Wed, & Thurs 2pm - 4:30pm

Humanities, Social Sciences and Education Library (HSSE) 
Mondays 6pm - 9pm 

Asian American & Asian Resource & Cultural Center (AACC) 
Tuesdays 6pm - 9pm 

Mechanical Engineering Building (ME) 
Gatewood Wing Rooms 2138 & 2142
Wednesdays 6pm - 9pm
For all questions, inquiries, or comments please reply to writing.lab@purdue.edu.
Navigation

About

Students

Faculty

Alumni

Newsletter

March 2020

February 2020

January 2020

December 2019

November 2019

September 2019

October 2019

Jobs in the Writing Lab
Tutoring Schedule & Locations
Schedule a tutoring appointment at any location with our online scheduler.
Please note: If you have issues logging in, please call the Writing Center for assistance scheduling your appointment
Phone: 765-494-3723
---
Virtual Hours (Summer 2020)
Only virtual appointments are available at this time.
Monday - Friday: 9:00 AM – 5:00 PM
---