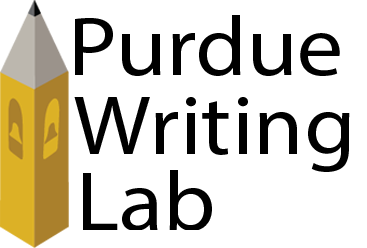 Welcome to the Purdue Writing Lab
This page is brought to you by the Writing Lab at Purdue University. When printing this page, you must include the entire legal notice.
---
Copyright ©1995-2018 by The Writing Lab & The OWL at Purdue and Purdue University. All rights reserved. This material may not be published, reproduced, broadcast, rewritten, or redistributed without permission. Use of this site constitutes acceptance of our terms and conditions of fair use.
---
---

 

Welcome back!

Please help us get the word out to new instructors, staff, and students by sharing this newsletter with people who may find it useful and encourage them to sign up.

We will be closed Jan 20 for Martin Luther King Jr. Day.
 

---

Request a Remote Tour for Your Students

If you're an instructor, Writing Lab staff may be available to provide brief overviews about our services or facilitate a guided peer review or interactive workshop for a class or group on the Purdue West Lafayette campus.

Just go to our website and request a remote tour to come to your class.  Be sure to select: "overview/remote tour so my students can learn about Writing Lab services."



Things to Do

Jan 27 

- Writers' Room

Writers' Rooms are dedicated times and places for writers of all stripes to work on their academic writing projects (e.g. class assignments, scholarly articles, dissertations, etc.). Writers should plan to spend most of the two-hour block in independent writing; however, Writing Lab tutors will be available for very brief, limited consultations if concerns arise during the writing time.

Writers should bring whatever materials they need for successful work on their projects, including laptops, books and articles, style guides, research data, white board markers, pens, paper, etc.



Join us on Jan 27, Feb 10 & 24, Mar 9 & 23, Apr 13 & 27.

  

All Writers' Rooms are 3:30pm - 5:30pm and located in WTHR 420

.


Registration is required and open to all Purdue students, staff, and faculty. Please visit our online schedule and choose the session you want under the "Group Programs" schedule.


Starting Monday Jan 27

- Conversation Groups



Visit our daily conversation groups to enhance your English language skills weekdays between Jan 27 - May 1.  All conversation groups are held in HEAV 220. 


Mondays 3:30 - 4:30 PM 
Tuesdays 10:30 - 11:30 AM
Wednesdays 3:30 - 4:30 PM 
Thursdays (Snack Chat) | 1:30 - 2:30 PM
Fridays | 11:30 - 12:30 PM

Registration is required and open to all Purdue students, staff, and faculty.  Please visit our online schedule and choose the session you want under the "Group Programs" schedule.

Jan 29

- Workshop: Optimize Your Writing Lab Session

Whether you're working on a quick-hit assignment, a seminar paper, and/or a much more complex writing project, this introductory workshop is geared toward helping you prepare to make the most out of each tutoring consultation. Audience members are encouraged to bring computers/tablets and material(s) in progress to use during the workshop.



All workshops are held in HEAV 220, 1:30-2:30 PM.



Registration is required and open to all Purdue students, staff, and faculty. Please visit our online schedule and choose the session you want under the "Group Programs" schedule.


In the Spotlight

Establishing a Working Agenda for Your Session

By Hadi B., Tutor

A Writing Lab session is most fruitful when your agenda is focused and when you know what you are coming for and you clearly communicate it. Consider these questions before you make your first appointment this semester:



Did you read your assignment sheet, but you just were not able to get started? Do not waste further time. The challenge you are encountering is in understanding the requirements of the assignment and in getting your ideas down on paper.
If you cannot write your introduction because it is overwhelming to express the main idea of the paper and lay out its foundations from the very beginning, we can assist you with that.
If you find it difficult to choose reliable sources to frame an argument, you are not alone! I also find it stressful to sift through Purdue Libraries' rich resources. We can share practical strategies to choose credible and relevant sources and best practices.
If you have too many ideas, and you cannot choose the building blocks needed to construct your argument, we can work on the following: What is important? What is relevant? What is redundant? What is too specific? What is too general?
If you looked at your paper while revising and you found out that the work is complete but the different parts are not connected, do not panic! I usually have strong ideas, but for some reason certain parts do not align together. We can walk you though it.
If you feel you have recurrent grammar mistakes, or your sentences are long and wordy, you will be able to work on grammar and sentence structure with us.

There might be ten other reasons why you want to visit the Writing Lab. One way to make your consultation sessions more productive and satisfactory is to work on one major theme at a time.


Other Things to Do




From Our Campus Partners

LGBTQ Center




Wellness Wednesdays:  Time Management




January 22

, 10:00am
SCHL 230        

We will be having more Educational Seminars offered once a month at 10am at the LGBTQ Center (breakfast will be included). At each seminar, one lucky participant receives a free yoga set (yoga mat, mat carrier, blocks, and resistance band included)!




LGBTQ Center




Wellness Wednesdays:  Time Management




January 22

, 10:00am
SCHL 230        

Our Peer Support Groups will begin on January 22nd and run weekly (with the exception of 2/26) from 4:30pm-6:00pm at the LGBTQ Center (dinner will be provided).

The topics for the support group include: Stress, Mental Health, Relationships, and Substance Use and will be facilitated by a trained therapist from CAPS. The purpose of the support group is to provide a safe and welcoming space for LGBTQ students on campus to discuss issues that are relative to their well-being (particularly mental well-being) and to create social support systems that facilitate positive outcomes.




AAARCC        




Lunar New Year Celebration




February 1

, 11:00am - 2:00pm        
CoRec Feature Gym              

Join the Purdue community and learn how the New Year is celebrated across cultures!  Featuring organizations' activity booths, Chinese Performing Arts Troupe, Lion Dance, Taekwondo, Okinawa Yuyukai, along with tasty food, and more as we celebrate the Lunar New Year!

CoRec parking lot A/B/C spots available for free during this event (unless marked "Reserved").  Please enter the building from the entrance facing Martin Jischke Dr to access the Feature Gym.
       




 

Get feedback!


Our trained tutors can assist Purdue students, staff, and faculty working on ANY writing project, at any stage of the writing process both in person and online.
 
 
 

The Weekly Writer

is published each week by the Writing Lab while classes are in session.  Please check our website owl.purdue.edu for more information on our services and hours.  

Contact Us: writing.lab@purdue.edu
Call Us: (765)494-3723
Subscribe to this newsletter.



Main Location


Heavilon Hall
Room 226
Monday - Thursday 9am - 6pm  
Friday 9am - 5pm       



Satellites


Hicks Undergraduate Library
Find us near the information desk
Tues, Wed, & Thurs 2pm - 4:30pm

Humanities, Social Sciences and Education Library (HSSE) 
Mondays 6pm - 9pm 

Asian American & Asian Resource & Cultural Center (AACC) 
Tuesdays 6pm - 9pm 

Mechanical Engineering Building (ME) 
Gatewood Wing Rooms 2138 & 2142
Wednesdays 6pm - 9pm
DO NOT reply to this email.  For all questions, inquiries, or comments please reply to writing.lab@purdue.edu.
Navigation

About

Students

Faculty

Alumni

Newsletter

March 2020

February 2020

January 2020

December 2019

November 2019

September 2019

October 2019

Jobs in the Writing Lab
Tutoring Schedule & Locations
Schedule a tutoring appointment at any location with our online scheduler.
Please note: If you have issues logging in, please call the Writing Center for assistance scheduling your appointment
Phone: 765-494-3723
---
Virtual Hours (Summer 2020)
Only virtual appointments are available at this time.
Monday - Friday: 9:00 AM – 5:00 PM
---