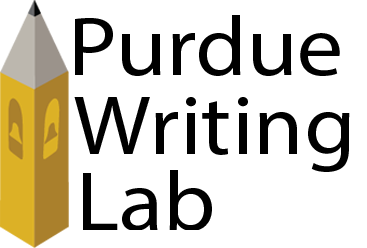 Welcome to the Purdue Writing Lab
This page is brought to you by the Writing Lab at Purdue University. When printing this page, you must include the entire legal notice.
---
Copyright ©1995-2018 by The Writing Lab & The OWL at Purdue and Purdue University. All rights reserved. This material may not be published, reproduced, broadcast, rewritten, or redistributed without permission. Use of this site constitutes acceptance of our terms and conditions of fair use.
---
 
"Give yourself breaks—try writing for 20 minutes, and then breaking for five, or writing for 45 minutes, and breaking for 15."
- Eliza G., Tutor
 

Upcoming

 Events

Today

 

- Workshop: Writing in "Plain Style"

Preparing documentation—reports, processes & procedures, instructions, etc.? Join us at this workshop to learn techniques to help you stylize your writing so that non-academic audiences will understand what you mean the first time they read or hear it.



All workshops are held in HEAV 220, 1:30-2:30 PM.



Registration is required. Please choose the workshop you want under the "Group Programs" schedule.

\

Weekdays

 

- Conversation Groups



Visit our daily conversation groups to enhance your English language skills weekdays between Jan 27 - May 1.  All conversation groups are held in HEAV 220. 


Mondays 3:30 - 4:30 PM 
Tuesdays 10:30 - 11:30 AM
Wednesdays 3:30 - 4:30 PM 
Thursdays (Snack Chat) | 1:30 - 2:30 PM
Fridays | 11:30 - 12:30 PM

Registration is required.  Please choose the conversation group you want under the "Group Programs" schedule.

Snacks will be provided on Thursdays.

Monday

 

- Writers' Room

Writers' Rooms are dedicated times and places for writers of all stripes to work on their academic writing projects (e.g. class assignments, scholarly articles, dissertations, etc.). Writers should plan to spend most of the two-hour block in independent writing; however, Writing Lab tutors will be available for very brief, limited consultations if concerns arise during the writing time.



Join us on Feb 10 & 24, Mar 9 & 23, Apr 13 & 27.

  

All Writers' Rooms are 3:30pm - 5:30pm and located in WTHR 420

.



Registration is required. Please choose the Writers' Room you want under the "Group Programs" schedule.



Earn a special prize when you attend at least 5 this Spring!





In the Spotlight

Rhetorical Analysis

By Eliza G., Tutor

Rhetorical analyses are popular assignments in ENGL 106, Purdue's introductory writing course, because they can help you throughout your academic career and beyond to read critically in any context. They involve a selected text—a book, an essay, a poem or song, a speech, or even a visual text like an image or a film—and your interpretation of that text. A rhetorical analysis attempts to answer the questions: What is the text's overall argument, message, or theme? What is it trying to convey, and by what rhetorical devices does it do so? A good rhetorical analysis has a strong, clear thesis, a logical organization, and ample explanation of textual evidence.

If you're coming in to discuss a rhetorical analysis during your session at the Writing Lab, here's what you might expect: First, after greeting you, I would ask about your assignment. What are you analyzing? What are the instructor's expectations for the assignment—its length, citations, specific criteria it needs to meet, etc.? Bringing in an assignment sheet or rubric is extremely helpful—your tutor will almost certainly ask to see one. If you're bringing in a draft on which you already have feedback, bring that feedback along, too.

Next, I would ask what you'd like to discuss. You might be in the brainstorming stage, and want to discuss potential topics, or even texts to select, if the choice is your own. I might ask about your first impressions of the text, what you find interesting, or background information to help get you started. Or you might want help on specific parts of your essay—a certain paragraph, working on transitions, your thesis statement, etc. Discussing why you're not satisfied and what your goals are would help me articulate what to do to improve your essay. Having specific goals for the session and the essay will help you get the most out of your session.

Many of these strategies would be useful for other documents too, but every session is different and based on your needs. Remember, the Writing Lab can help with all kinds of writing, at all stages. What was mentioned above are just some of the things we can help with—we look forward to working with you in the future!



Other Events




From Our Campus Partners

English 




Big 10 Emerging Scholar in English Lecture


Today





10:00am - 11:30am, HEAV 320


A discussion of scholar Tejumola Olaniyan's research on "African Literature in the Post-Global Age:  Provocations on Field Commonsense"  followed by pizza for lunch.



2:00pm - 3:00pm, GRIS 102
A discussion of Homegoing.



4:30pm - 5:30pm, STEW 313


Lecture featuring Dipo Oyeleye speaking on "Postcolonial Futures: Rethinking Afropolitanism as a Theory of Reading Global Africa" followed by wine and cheese reception

LGBTQ Center




Wellness Wednesdays:  Power Based Violence 101


Today

, 10:00am




SCHL 230        





We will be having more Educational Seminars offered once a month at 10am at the LGBTQ Center (breakfast will be included). Please see the flyer above for the topics of each seminar. At each seminar, one lucky participant receives a free yoga set (yoga mat, mat carrier, blocks, and resistance band included)!






AAARCC        




The First Amerasians: Mixed Race Koreans from Camptowns to America


Today, 11:00am - 12:30pm               
RAWLS 3058            

Presentation by Dr. Yuri Doolan.

LGBTQ Center




Peer Support Group


Today, 4:30pm - 6:00pm
SCHL 230        

Our Peer Support Groups will begin on January 22nd and run weekly (with the exception of 2/26) from 4:30pm-6:00pm at the LGBTQ Center (dinner will be provided).

The topics for the support group include: Stress, Mental Health, Relationships, and Substance Use and will be facilitated by a trained therapist from CAPS. The purpose of the support group is to provide a safe and welcoming space for LGBTQ students on campus to discuss issues that are relative to their well-being (particularly mental well-being) and to create social support systems that facilitate positive outcomes.




AAARCC        




Lunch and Learn: CARE


February 20, 12:00pm - 1:00pm        
PMU Anniversary Drawing Room         

Learn about power-based personal violence with Purdue CARE.

The lunch and learn series is every Thursday during the semester 12pm - 1pm at the AAARCC.  Lunch will be provided.


English 




2020 Books & Coffee


February 20, 4:00pm     
STEW 302/306         

Week 3 with Professor Marlo David speaking on Toni Morrison's Sula.  Sponsored by the Department of English and the Purdue Student Union Board.


AAARCC        


Coronavirus: Learning 

About Resources & a Space to Ask Questions


Feb 21, 11:30am - 1:00pm               
Purdue Graduate Center (504 Northwestern Ave)           

Ask questions, get connected, refreshments provided.

Register:  tinyurl.com/coronaquestions

Questions?  pgsg.life@gmail.com

NAECC     




Aloha Friday: Candy Leis


February 21, 1:00pm - 3:00pm        
NAECC              

Celebrated on the Hawaiian Islands as an end to the work week, we're bringing some "Aloha" to Purdue by exploring and honoring Native Hawaiian cultures and traditions. Join us as we make candy leis and learn about the significance of leis. Sponsored by:  NAECC in collaboration with the Polynesian Culture Club of Purdue


LGBTQ Center




Game Nights


Feb 25-26, 4:45pm - 6:45pm        
SCHL 230        

Stop by for some back-to-school de-stress with board games, D&D, Super Smash Bros., and Mario Kart.

Read more about Game Night on our website.




NAECC     




Film: A Good Day to Die


February 27, 6:00pm - 7:30pm        
NAECC              

On this day in 1973, approximately 200 Oglala Lakota activists and AIM (American Indian Movement) members occupied Wounded Knee on the Pine Ridge Reservation in South Dakota. One side would label this as the "largest civil disorder in the history of the Marshals Services" (U.S. Marshals Service) while the other side would see this as a fight for Native American democracy. Documentary, 2011, Kino Lorber, Inc. Films, Not Rated, run time: 93 minutes


NAECC     




Peace Corps Info Session


March 4, 12:00pm - 1:00pm        
NAECC              

Serving in the Peace Corps is a great way to immerse yourself in a new culture, learn a new language, and have the experience of a lifetime.


Learn about Volunteer opportunities
Ask questions about service
Gain tips to guide you through the application process

For more information contact Andrea Tiller, atiller@peacecorps.gov

AAARCC        




Different Lenses: Case Study Conundrum


March 4, 12:00pm - 1:30pm        
AAARCC (915 5th St)        

A student workshop series for a more effective culture-crossing student experience.

 

Get feedback!


Our trained tutors can assist Purdue students, staff, and faculty working on ANY writing project, at any stage of the writing process both in person and online.
 
 
 

"The Weekly Writer"

is published each week by the

Writing Lab

while classes are in session.



Please share and encourage Purdue staff, faculty, and students to

subscribe

to this newsletter. Instructors, want us to teach your students about the lab?  Request a remote lab tour.


For all questions, inquiries, or comments please reply to writing.lab@purdue.edu.
Navigation

About

Students

Faculty

Alumni

Newsletter

March 2020

February 2020

January 2020

December 2019

November 2019

September 2019

October 2019

Jobs in the Writing Lab
Tutoring Schedule & Locations
Schedule a tutoring appointment at any location with our online scheduler.
Please note: If you have issues logging in, please call the Writing Center for assistance scheduling your appointment
Phone: 765-494-3723
---
Virtual Hours (Summer 2020)
Only virtual appointments are available at this time.
Monday - Friday: 9:00 AM – 5:00 PM
---