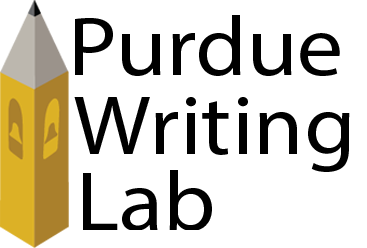 Welcome to the Purdue Writing Lab
This page is brought to you by the Writing Lab at Purdue University. When printing this page, you must include the entire legal notice.
---
Copyright ©1995-2018 by The Writing Lab & The OWL at Purdue and Purdue University. All rights reserved. This material may not be published, reproduced, broadcast, rewritten, or redistributed without permission. Use of this site constitutes acceptance of our terms and conditions of fair use.
---
February 28, 2018

The Weekly Writer
The Weekly Writer is published each Wednesday while classes are in session. As always, please share this information with anyone who might be interested.
Writing Research in Any Field: CLsrity and Flow
By Liz W., Tutor
The term "research paper" may sound cliché and trivial and like something we should have left in high school, but documents presenting research are in many college courses. They can be over an array of topics in many different departments. They span from small projects in ENGL 106 to massive projects PhD students must complete in hope of publication. Research writing, while in school, is something you will never escape from, so it is imperative to know how to do so correctly and effectively.
One thing I look for in sessions with research documents is if it makes sense. For example, especially if you are researching something highly technical in your field of study, it is easy to use jargon related to the subject that outside audiences many not understand. Purdue is a university heavy on the sciences. When a chemistry PhD student comes in with a project that I know nothing about (and can barely pronounce the words being written about!) a good rule of thumb is that I should still be able to understand what he or she is talking about. No matter the content, a reader should be able to follow the writer's train of thought and trace the argument. If this cannot happen, something is going wrong, and sometimes it is the amount of highly technical words that clutter the page.
Another thing I look for when working with you on a research documents is the organizational flow. It is crucial that you have a logical argument so that the audience can follow your thought process and make their own conclusions about the information presented. A tip I use to follow organization is to underline the thesis and then underline all topic sentences of paragraphs. Are the topic sentences relating back to the thesis? Do the topic sentences make sense? Are the topic sentences at the beginning of the paragraphs?
These are only two things we can help with regarding research papers at the Writing Lab. Research projects can be huge endeavors and therefore require a lot of work—we can help with that. Feel free to make an appointment! We look forward to speaking with you.
Writing Lab News & Events
---
Workshop: APA/MLA Style and Citation Practices
March 7, 1:30 - 2:30 PM
Join us to learn more about using sources in your writing, from your introduction to your bibliography. More Information »
Staff Spotlight
---
By Marybeth H., Tutor
My name is Marybeth and this is my first semester serving as a Writing Lab tutor. Prior to my involvement in the Writing Lab, I served as an executive within my sorority and as an orientation team leader for Boiler Gold Rush. My undergraduate degree is in Accounting, with which I plan to start my career as a CPA in Auditing after graduating in May. Though the majority of my college experiences have not involved direct tutoring, I believe my attention to and appreciation of language has helped me greatly along the way. I believe language and how we cultivate it can provide endless opportunities, whether our language takes shape in the relationships with peers and colleagues we form, in shedding light on current issues within our communities, or even in bringing credibility to our thoughts and work. I believe language has the ability to capture much more of ourselves than many would believe, and I enjoy having the opportunity to bring the personalities of students to their writings. I believe that the Writing Center allows me to continue the conversation of the importance of language and how we can grow not only as writers, but also as individuals. The Writing Lab has already provided me with various perspectives and approaches to writing that I had never before considered; I have been able to consider the value of differing styles between cultures and varying degrees of content development. I hope to carry this newfound knowledge forward with me as my love for writing itself is something I hope to always carry with me.
From Our Partners
---

Lunch and Learn Series, Part 3: Implementing Strategies for Improving LGBTQIA+ Student Success At Purdue
March 28, 12:00 - 1:00 PM
WALC 3132
This lunch and learn is the third in a three part series that invites the Purdue community to engage in a campus-wide discussion about LGBTQIA+ student retention and academic success. This discussion-based lunch and learn will provide attendees with opportunity to learn about best practices for supporting LGBTQIA+ students and strategies to improve academic success for LGBTQIA+ Purdue students. You do not need to attend previous lunch and learns in this series to attend this lunch and learn.
Free and open to all!
Lunch will be provided.
Hours of Operation
Spring 2018
Jan 8 – Apr 27
Main Location
Heavilon Hall, Room 226
Mon – Thurs
9 AM – 6 PM
Fridays
9 AM – 1 PM
Evening Satellites
HSSE Library
Mondays
6 PM – 9 PM
AAARCC
Tuesdays
6 PM – 9 PM
ME Building
Wednesdays
6 PM – 9 PM
Connect With Us

Appointments

Twitter

Facebook
Writing Tip of the Week
"I pause during the writing process to give myself time to think and revisit my writing with a clear mind."
-Hadi B., Tutor
Book of the Week
MLA Handbook

Recommended by Devyn M., Tutor: "This book is extremely helpful for anyone who is questioning their formatting of a MLA style document."
You can find this book in the Writing Lab's library. Just ask the front desk.
---
As always, please share this information with anyone who might be interested.
To subscribe to this list, forward this message to our secretary, Chris Voeglein (cvoeglei@purdue.edu).
Navigation

About

Students

Faculty

Alumni

Newsletter

Jobs in the Writing Lab
Writing Consultations
Schedule a writing consultation/tutoring appointment at any location or register for our group programs with our 
online scheduler
. 
Face-to-face (in-person), online (live video chat), and etutoring (emailed feedback) appointments available.
Please note: You must be a Purdue student, staff, or faculty member of the West Lafayette campus to use our writing consultation services or attend our group programs. For assistance scheduling your first appointment, we've prepared a helpful guide to using our online scheduler, WCO. 
---
Hours
Monday-Friday 9:00 am - 6:00 pm
Evening and weekend hours may be available at our satellite locations or virtually as late as 9:00 pm, please check our online schedule for details on current availability.
---
Contact us
Phone: (765) 494-3723
Fax: (765) 494-3780
Facebook | Twitter | Instagram | Youtube
Subscribe to the Writing Lab Newsletter
---