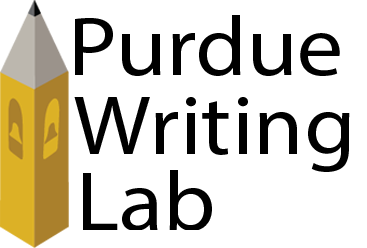 Welcome to the Purdue Writing Lab
This page is brought to you by the Writing Lab at Purdue University. When printing this page, you must include the entire legal notice.
---
Copyright ©1995-2018 by The Writing Lab & The OWL at Purdue and Purdue University. All rights reserved. This material may not be published, reproduced, broadcast, rewritten, or redistributed without permission. Use of this site constitutes acceptance of our terms and conditions of fair use.
---
February 21, 2018

The Weekly Writer
The Weekly Writer is published each Wednesday while classes are in session. As always, please share this information with anyone who might be interested.
Connective Issues: Improving Transitions in Your Writing
By Devyn M., Tutor
One common request in the Writing Lab is to work on transitions. Good transitions are able to connect paragraphs in order to build a cohesive argument. The key to doing this is to highlight the relationships between ideas within paragraphs.
In order to help a document sound smooth and clear, I always suggest reading the document aloud. Reading papers allows me to catch what parts of my paper did not really make sense. These parts can be places that ideas do not transition smoothly to one another.
Checking documents for transition words is also important. I use words like "however," "while," or "therefore" in my writing to improve the overall clarity of my thoughts. These transition words are good for connecting ideas and concepts. For example, I use the word "however" to show contrast between two ideas, and I use "moreover" to show agreement between two ideas. We can help you implement these words into your writing by identifying locations where transition words would help the overall clarity of your document.
Reading a document with a tutor and allowing us to find locations for transition words to be placed are only two of many strategies that we have for helping you with your transitions. Come visit us at the Writing Lab to learn more.
Writing Lab News & Events
---
Workshop: APA/MLA Style and Citation Practices
March 7, 1:30 - 2:30 PM
Join us to learn more about using sources in your writing, from your introduction to your bibliography. More Information »
Staff Spotlight
---
By Ryan S., Tutor
My name is Ryan and this is the first semester that I am serving in the writing lab as an undergraduate tutor. I am currently a sophomore majoring in Aerospace Engineering with a minor in Communications. When I am done with school, I hope to be able to design rockets and the propulsion systems that power them. Here at Purdue, I play on many intramural soccer teams, I am a member of a design team building a large rocket, and I am part of the advisory board for Purdue's Paint Crew. I enjoy tutoring because it gives me an opportunity to learn about the many things people are studying here at Purdue, especially from the people who know the most about their topic. Being able to help people at the same time makes it even better. In the past, writing was not something that was easy for me and I have had to put a lot of work in to improve as a writer, so I understand how the writing process can be frustrating. Becoming a tutor has made me realize how working with others on your writing can help the process become much less stressful. I look forward to tutoring in the future and getting exposed to new and interesting ideas!
From Our Partners
---

NAECC Lunch and Learn: "Indigenous Communities during the Independence in the Andes" presented by Dr. Victor Maqque
Today, 11:30 AM - 1:00 PM
NAECC (NACC)
The independence era in the Andes has been mostly dominated by historical accounts that ignored the Indigenous sectors. What explains the absence of Indigenous communities' views about the social and political processes unfolding? Recent scholarly research signals that for the indigenous sectors, the independence meant continuity rather than change. This talk will attempt to emphasize the views and interventions of the Indigenous communities in this complex historical process. Sponsored by: Center for Leadership Development in collaboration withthe NAECC. More Information »

Lunch and Learn Series, Part 2: Identifying Barriers to LGBTQIA+ Student Retention & Success
Today, 12:00 - 1:00 PM
WALC B091
This lunch and learn is the second in a three part series that invites the Purdue community to engage in a campus-wide discussion about LGBTQIA+ student retention and academic success. This lunch and learn will provide attendees an opportunity to explore and understand barriers that impede LGBTQIA+ student retention and success at Purdue. You do not need to attend Part 1 of the lunch and learn series to attend this lunch and learn.
Free and open to all!
Lunch will be provided.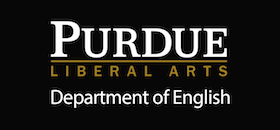 Books and Coffee Week 4: The Sixth Extinction
February 22, 4:00 - 5:00 PM
STEW 302/306
Gordon G. McNickle, Assistant Professor of Botany and Plant Pathology, College of Agriculture, will be speaking on Elizabeth Colbert's The Sixth Extinction. More Information »

Where do I Fit In? Understanding and Navigating through the Complexities or Racial and Ethnic Identity Formation of Latinx Students, A lecture with Dr. Nenetzin Reyes
February 26, 6:00 - 7:30 PM
Krannert Auditorium
What is race, and how do we come to terms with it? For many, it is a daily struggle, but for others, it's simply a fact. How do our identities, both racially and ethnically, inform our daily lives, beliefs, and values? In this conversation, Dr. Reyes will provide attendees with an opportunity to learn about racial identity formation and the impact it can have on college success. Dr. Reyes is an assistant professor of Counseling at Indiana Wesleyan University. She earned her M.S. and Ph.D. in Marriage and Family Therapy from Texas Tech University. She also has B.S. in Child and Family Studies from Baylor University. Her research interests include: parenting issues, interethnic couples and families, the process of addressing cultural issues in therapy, and the development of therapists' competence in the concerns and issues of the Hispanic population in the U.S. More Information »

NAECC Film Screening featuring "What Was Ours"
February 27, 6:00 - 8:00 PM
NAECC (NACC)
Film screening and discussion following the film will be led by Charmayne Champion-Shaw (Cheyenne), Director of the American Indian Programs and Native American & Indigenous Studies Program at IUPUI. More Information »

Lunch and Learn Series, Part 3: Implementing Strategies for Improving LGBTQIA+ Student Success At Purdue
March 28, 12:00 - 1:00 PM
WALC 3132
This lunch and learn is the third in a three part series that invites the Purdue community to engage in a campus-wide discussion about LGBTQIA+ student retention and academic success. This discussion-based lunch and learn will provide attendees with opportunity to learn about best practices for supporting LGBTQIA+ students and strategies to improve academic success for LGBTQIA+ Purdue students. You do not need to attend previous lunch and learns in this series to attend this lunch and learn.
Free and open to all!
Lunch will be provided.
Hours of Operation
Spring 2018
Jan 8 – Apr 27
Main Location
Heavilon Hall, Room 226
Mon – Thurs
9 AM – 6 PM
Fridays
9 AM – 1 PM
Evening Satellites
HSSE Library
Mondays
6 PM – 9 PM
AAARCC
Tuesdays
6 PM – 9 PM
ME Building
Wednesdays
6 PM – 9 PM
Connect With Us

Appointments

Twitter

Facebook
Writing Tip of the Week
"Don't edit while writing the first draft; save editing for after your ideas are on the page."
-Adrianna R., Tutor
Book of the Week
Revising Your Dissertation: Advice from Leading Editors by Beth Luey (ed.)

Recommended by Liz W., Tutor: "This book is comprised of 11 different essays composed by different editors, all with their own tips and tricks on how to revise a noteworthy dissertation."
You can find this book in the Writing Lab's library. Just ask the front desk.
---
As always, please share this information with anyone who might be interested.
To subscribe to this list, forward this message to our secretary, Chris Voeglein (cvoeglei@purdue.edu).
Navigation

About

Students

Faculty

Alumni

Newsletter

Jobs in the Writing Lab
Writing Consultations
Schedule a writing consultation/tutoring appointment at any location or register for our group programs with our 
online scheduler
. 
Face-to-face (in-person), online (live video chat), and etutoring (emailed feedback) appointments available.
Please note: You must be a Purdue student, staff, or faculty member of the West Lafayette campus to use our writing consultation services or attend our group programs. For assistance scheduling your first appointment, we've prepared a helpful guide to using our online scheduler, WCO. 
---
Hours
Monday-Friday 9:00 am - 6:00 pm
Evening and weekend hours may be available at our satellite locations or virtually as late as 9:00 pm, please check our online schedule for details on current availability.
---
Contact us
Phone: (765) 494-3723
Fax: (765) 494-3780
Facebook | Twitter | Instagram | Youtube
Subscribe to the Writing Lab Newsletter
---