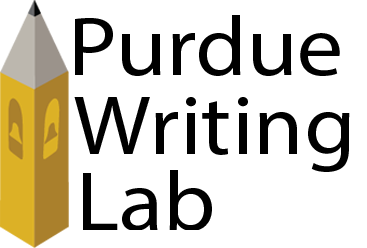 Welcome to the Purdue Writing Lab
This page is brought to you by the Writing Lab at Purdue University. When printing this page, you must include the entire legal notice.
---
Copyright ©1995-2018 by The Writing Lab & The OWL at Purdue and Purdue University. All rights reserved. This material may not be published, reproduced, broadcast, rewritten, or redistributed without permission. Use of this site constitutes acceptance of our terms and conditions of fair use.
---
April 18, 2018

The Weekly Writer
The Weekly Writer is published each Wednesday while classes are in session. As always, please share this information with anyone who might be interested.
Answering Questions Graphically: Visual Argument
By Liz W., Tutor
Sometimes when you come into the Writing Lab, you don't have to bring traditional "writing." We see an array of things here, from the classic 5-paragraph essay to PowerPoints to résumés to graphic design. Visual arguments are something we see often in the Writing Lab, and we have a very helpful way of handling them with our clients.
A visual argument attempts to get audience attention through pictures and words, trying to persuade them to adopt a certain perspective or to call them to action. Some examples of visual arguments are billboards, advertisements in newspapers, magazines, or online, or the fliers one sees around a college campus. Visual arguments are everywhere, which is why so many instructors assign them in English courses; it is important to know how to persuade someone in more than a thesis statement and body paragraphs.
If you bring in a visual argument, be prepared for me to ask you a lot of questions. I want to know your thought process! Why these pictures? Why these fonts? Why these words? What do you want to accomplish? What do you want your audience to remember? This is just the beginning. If you fully understand the purpose behind the visual argument and know what you are trying to accomplish, it is easier to make the argument stronger. Then I will most likely walk you through the three different rhetorical appeals, logos, ethos, and pathos, so that we can make sure your argument is doing what you want it to do.
These are just a few things I would do with you while working on a visual argument. It's always a fun process to work on visual arguments because they are so easy to play around with and manipulate to get them just how you want them. They are not scary—you control them! Swing by the Writing Lab the next time you have one assigned and we can work on it together.
For more information on how to organize an essay, come to the Writing Lab and talk with a tutor. We are trained to help you build your skills as a writer.
Writing Lab News & Events
---
Writing Lab Hours During Finals Week
The Writing Lab will be open our regular hours of 9 AM – 6 PM through Wednesday, May 2nd.
We will reopen for the Summer session at 9 AM on May 14th, 2018.
Staff Spotlight
---
By Austin S., Tutor
My name is Austin, and I am on my third semester of undergraduate tutoring. I am majoring in Mechanical Engineering with minors in Neuroscience Psychology and Global Engineering. Tutoring has helped me learn to be adaptable and versatile within my writing, but also my major. Every appointment is different, and you can't go in expecting them to be the same. It helps me to have a more free-form jazz mindset for each new session, and I apply that to engineering as well where every problem is different with a variety of paths to the "correct" solution. With writing I've learned to just write what I'm thinking and improve it from there. I don't spend time searching for the perfect phrase because there isn't one right way to describe something.
From Our Partners
---

Trans Inclusion Training
April 18th, 3:00 - 4:30 PM
Register for location
From media coverage of transgender celebrities to national discussions of transgender, transgender and non-binary identities and experiences are more visible than ever. More information »

Lavender Graduation
April 19th,7:00 - 9:00 PM
East and West Faculty Lounges (PMU)
Lavender Graduation is a special ceremony for LGBTQ and Ally students to acknowledge their achievements, contributions, and unique experiences at Purdue University. More information »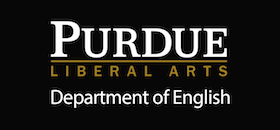 2018 Literary Awards
April 19th
North Ballroom, PMU
The Department of English at Purdue University is pleased to announce that author Emily St. John Mandel will be our distinguished guest speaker for the 2018 Literary Awards celebration. More Information »

Maori Carving Workshop
April 24th, 4:00 - 6:00 PM
NAECC (NACC)
Join us for this interactive workshop focused on wood carving. More Information »
Hours of Operation
Spring 2018
Jan 8 – Apr 27
Main Location
Heavilon Hall, Room 226
Mon – Thurs
9 AM – 6 PM
Fridays
9 AM – 1 PM
Evening Satellites
HSSE Library
Mondays
6 PM – 9 PM
AAARCC
Tuesdays
6 PM – 9 PM
ME Building
Wednesdays
6 PM – 9 PM
Connect With Us

Appointments

Twitter

Facebook
Writing Tip of the Week
"Remind yourself why you are writing in the first place."
-Devyn M., Tutor
Book of the Week
Writing the Successful Thesis and Dissertation by Irene L. Clark

Recommended by Bethany S., Tutor: "The book is organized in a way that breaks down the dissertation-writing process into sections, so you can easily find specific advice for you struggles with writing a thesis."
You can find this book in the Writing Lab's library. Just ask the front desk.
---
As always, please share this information with anyone who might be interested.
To subscribe to this list, forward this message to our secretary, Chris Voeglein (cvoeglei@purdue.edu).
Navigation

About

Awards and Featured Articles

Students

Faculty

Alumni

Newsletter

Jobs in the Writing Lab
Writing Consultations
Schedule a writing consultation/tutoring appointment at any location or register for our group programs with our 
online scheduler
. 
Face-to-face (in-person), online (live video chat), and etutoring (emailed feedback) appointments available.
Please note: You must be a Purdue student, staff, or faculty member of the West Lafayette campus to use our writing consultation services or attend our group programs. For assistance scheduling your first appointment, we've prepared a helpful guide to using our online scheduler, WCO. 
---
Locations
2nd floor Krach leadership center (KRCH) 
Monday-Friday 9:00 am - 6:00 pm
HSSE Library Stewart Center
Monday-Friday 6:00 pm - 7:00 pm
Evening and weekend hours may be available at our satellite locations or virtually as late as 9:00 pm, please check our online schedule for details on current availability.
---
Contact us
Phone: (765) 494-3723
Fax: (765) 494-3780
Facebook | Twitter | Instagram | Youtube
Subscribe to the Writing Lab Newsletter
---