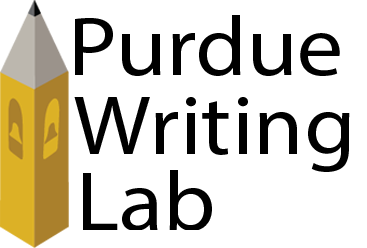 Welcome to the Purdue Writing Lab
This page is brought to you by the Writing Lab at Purdue University. When printing this page, you must include the entire legal notice.
---
Copyright ©1995-2018 by The Writing Lab & The OWL at Purdue and Purdue University. All rights reserved. This material may not be published, reproduced, broadcast, rewritten, or redistributed without permission. Use of this site constitutes acceptance of our terms and conditions of fair use.
---
April 04, 2018

The Weekly Writer
The Weekly Writer is published each Wednesday while classes are in session. As always, please share this information with anyone who might be interested.
Finding Scholarly Sources
By Nathan M., Tutor
In a few of my most recent appointments, a subject that I have touched on is effective research practices, which almost always relates to the question "how do I find scholarly resources?" Particularly in humanities classes, like ENGL 106, instructors will emphasize using scholarly articles in your written assignments. This can be intimidating, especially if you've never had to do it before.
Whenever clients ask me how to find scholarly sources, I always refer them to the Purdue Libraries website—an indispensable resource for any Purdue student. The Purdue Libraries offer millions of digital and hard-copy scholarly resources that touch on just about any academic topic one could conceive. However, this can be intimidating in itself—how do you sift through this massive amount of material? What if your topic is complicated and you don't know how to type it into the search bar? What if you don't find what you're looking for?
To the first question, using the advanced search bar when looking up sources on the Libraries website is crucial. You can narrow down the focus to a specific author, a specific date (or date range) of publication, and even down to the specific format of document you'd like (article, book, audio, etc). To the second question, think of key words—you may not be able to type every detail of your topic into the search bar, but if you can think of one or two key words that are important to your topic, start your search there. To the third question, even if you can't find any sources that pinpoint your topic directly, look through sources that seem somewhat related—their bibliographies are incredibly useful and can often point you toward what you're looking for. If you still find yourself struggling with seeking out sources, always remember that both the research librarians and the Writing Lab tutors can help you out—after all, it is our job to do so!
Writing Lab News & Events
---
Workshop: Professional Email Communication
April 18, 1:30 - 2:30 PM
This workshop will focus on the fundamentals of professional communication, particularly in school or work-related settings. More Information »
Staff Spotlight
---
By Parker B., Tutor
My name is Parker Beckman and this is my first semester of tutoring in the Purdue Writing Lab. I am currently a sophomore majoring in Brain and Behavioral Sciences, minoring in Critical Disability Studies, and completing my certificate program for Peace Corps Prep. Most of my coursework, extracurriculars, and research revolves around autism spectrum disorder, childhood education, and working with individuals with intellectual and developmental disabilities. Due to having such a strong passion for helping others, I think this was my main motivator in applying to work for the Purdue Writing Lab. Having the opportunity to help other Boilermakers at Purdue with something that I love (writing), is one of the best feelings. Since I work a lot with children and individuals with disabilities, I think that I have been conditioned into being a very compassionate, patient, and understanding individual, and I feel that this is also reflective of my tutoring style as well. After getting involved with the Purdue Writing Lab, I have realized that not only are all the other tutors very understanding and caring, but the overall atmosphere of the Writing Lab is accepting and provides its own sense of reassurance. If you would like to make an appointment, I would love to help answer any questions or doubts that you may have about your paper. It's always nice to have someone there to help!
From Our Partners
---

Richie Menchavez, "Asian American Music: Then, Now, & Forever"
April 4th, 6:30 - 8:30 PM
Krannert Auditorium
Richie Menchavez is the creator and founder of TRAKTIVIST - the premiere platform to discover, promote, and archive music made by Asian Americans. More information »

Spring Lunch and Learn Series: "The Beauty of Dancheong and Korean Food Culture"
April 5th, 12:00 - 1:00 PM
AAARCC
Hosted by Taejung Ma. Workshops include a free lunch for Purdue students, staff, and faculty. More information »

Convos presents Songs of Freedom
April 5th, 7:30 - 9:00 PM
Loeb Playhouse
Songs of Freedom explores three iconic voices of the 1960s—Joni Mitchell, Abbey Lincoln and Nina Simone—and the complex ways in which they call out to each other. More information »

Serious Parody, Past & Present: An Introduction to the Sisters of Perpetual Indulgence with Dr. Melissa Wilcox
April 9th, 6:30 - 7:30 PM
Krannert Auditorium
The Sisters of Perpetual Indulgence make up an unlikely order of nuns. Self-described as "twenty-first century queer nuns," the Sisters began in 1979 when three bored gay men donned retired Roman Catholic nuns' habits and went for a stroll through San Francisco's gay Castro district. More information »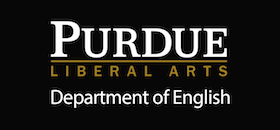 Purdue Writing Showcase
April 10th, 10:00 AM - 3:00 PM
STEW 302-313
A Print and Digital Media Symposium More Information »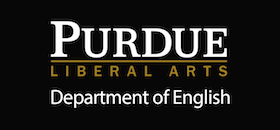 Community Read
April 10th, 4:30 - 5:30 PM
Elm Room, West Lafayette Public Library
with "Station Eleven" More Information »

NAECC Movie Night featuring "Lake of Betrayal: Story of Kinzua Dam"
April 10th, 6:00 - 8:00 PM
NAECC (NACC)
Kinzua Dam, on the Allegheny River in Pennsylvania, was a flash point in history for the Seneca Nation of Indians. More Information »

Film Screening and Discussion: Stilettos for Shanghai
April 10th, 6:30 - 7:30 PM
Krannert Auditorium
In 2014 an international contingent of Sisters was invited to Shanghai, China for their sixth annual Pride Celebration. More information »

#Resist: Panel Discussion with the Sisters of Perpetual Indulgence
April 11th, 6:30 - 7:30 PM
Krannert Auditorium
The Sisters of Perpetual Indulgence® is a leading-edge Order of queer nuns. More information »
Hours of Operation
Spring 2018
Jan 8 – Apr 27
Main Location
Heavilon Hall, Room 226
Mon – Thurs
9 AM – 6 PM
Fridays
9 AM – 1 PM
Evening Satellites
HSSE Library
Mondays
6 PM – 9 PM
AAARCC
Tuesdays
6 PM – 9 PM
ME Building
Wednesdays
6 PM – 9 PM
Connect With Us

Appointments

Twitter

Facebook
Writing Tip of the Week
"Use the Purdue OWL for help with grammar, citation, and other writing skills."
-Adrianna R., Tutor
Book of the Week
The Language Instinct by Steven Pinker

Recommended by Devyn M., Tutor: "This book is helpful if you want to learn more about how different groups of people create language."
You can find this book in the Writing Lab's library. Just ask the front desk.
---
As always, please share this information with anyone who might be interested.
To subscribe to this list, forward this message to our secretary, Chris Voeglein (cvoeglei@purdue.edu).
Navigation

About

Students

Faculty

Alumni

Newsletter

Jobs in the Writing Lab
Writing Consultations
Schedule a writing consultation/tutoring appointment at any location or register for our group programs with our 
online scheduler
. 
Face-to-face (in-person), online (live video chat), and etutoring (emailed feedback) appointments available.
Please note: You must be a Purdue student, staff, or faculty member of the West Lafayette campus to use our writing consultation services or attend our group programs. For assistance scheduling your first appointment, we've prepared a helpful guide to using our online scheduler, WCO. 
---
Hours
Monday-Friday 9:00 am - 6:00 pm
Evening and weekend hours may be available at our satellite locations or virtually as late as 9:00 pm, please check our online schedule for details on current availability.
---
Contact us
Phone: (765) 494-3723
Fax: (765) 494-3780
Facebook | Twitter | Instagram | Youtube
Subscribe to the Writing Lab Newsletter
---