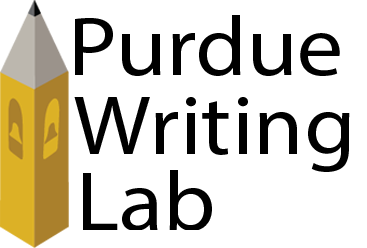 Welcome to the Purdue Writing Lab
This page is brought to you by the Writing Lab at Purdue University. When printing this page, you must include the entire legal notice.
---
Copyright ©1995-2018 by The Writing Lab & The OWL at Purdue and Purdue University. All rights reserved. This material may not be published, reproduced, broadcast, rewritten, or redistributed without permission. Use of this site constitutes acceptance of our terms and conditions of fair use.
---
Opportunities for Purdue Graduate Students in English 2018-2019
We are now accepting applications for graduate tutor positions for 2018-2019.
If you are a student in the English Department eligible for a tutoring position, please review the FAQs below. In addition, applicants are encouraged to attend the Writing Lab's Open House and Information Session (details below) to learn about tutoring and other opportunities in the Writing Lab and to learn information designed to strengthen applications.
Applicants must contact us at writing.lab@purdue.edu to receive the application form, along with two sample documents necessary for the application. Completed applications should be sent back to writing.lab@purdue.edu.
We are interested in reflecting the diversity of the Purdue community. Students from diverse backgrounds are encouraged to apply for positions in the Writing Lab.
FAQs: Graduate Tutor Positions
What is the Writing Lab?
The Writing Lab offers one-to-one consultations to any student at Purdue on any project, in any stage of the writing process. Consultants assist graduate and undergraduate students (as well as faculty, staff, and postdocs) from a variety of disciplines and backgrounds. The Writing Lab also offers multilingual conversation groups, workshops, computers for general use, faculty support, and online support materials through the Online Writing Lab (OWL). You can read the Writing Lab's mission statement at http://owl.english.purdue.edu/writinglab/mission.
What are the benefits of working in the Writing Lab?
Graduate consultants often find that tutoring in the Writing Lab can serve as an extension of their teaching, creating new pedagogical opportunities through one-to-one interaction. However, tutoring in the Writing Lab is different from teaching and even from conferencing with students in English 106 or other courses. Tutoring does not involve evaluating or grading students' writing as an instructor might. Instead, consultants, through a number of techniques, provide feedback on students' writing and answer questions that students have about writing, encouraging students to become active learners in the process.
The Writing Lab, through its tutoring and administrative positions, can foster professional development for graduate students and provide access to cutting-edge pedagogical experiences and even IRB-approved research projects. Graduate consultants may serve in administrative positions devoted to multilingual services, workshops and Writing Across the Curriculum, business writing, and technology. These administrative, research, and pedagogical opportunities have helped many graduate students grow professionally and be competitive in the job market.
Who may apply?
Graduate students in the English Department at Purdue may apply if they 1) have taught for at least one year in the ICaP program or are in their first year of teaching in ICaP when they apply; 2) have been mentored in the ICaP program; 3) and plan to work in the Writing Lab for at least one year. We have Writing Lab consultants from all fields of English Studies—literature, theory, rhetoric and composition, ESL and creative writing—and we accept applications from both M.A. and Ph.D. students. We are interested in reflecting the diversity of the Purdue community; therefore, students from diverse backgrounds are encouraged to apply for positions in the Writing Lab.
What is tutoring like?
Most tutoring occurs in one-to-one sessions, the goal of which is to help students become better writers, not merely to improve individual texts. Writing Lab sessions typically focus on larger, rhetorical issues related to writing, although sentence-level issues are addressed. We talk to students about their writing and help them figure out how to say what they want to say. Writing Lab consultants help students work on all kinds of writing, including assignments from first year composition, upper division papers from across the disciplines, resumes and job letters, technical writing, and graduate theses. Tutors work with graduate and undergraduate students, novice and expert writers, and writers from different linguistic and cultural backgrounds.
How much do Graduate Consultants work?
Writing Lab consultant positions are usually quarter-time positions (10 hours total per week). Normally, consultants spend 9 hours a week tutoring in the Lab. The rest of the time is used for staff meetings and other work. Tutoring has a different rhythm than classroom teaching, but most consultants will tell you that it requires about the same amount of effort as classroom teaching. Writing Lab consultants also facilitate workshops, conduct conversation groups for multilingual students.
How much specialized knowledge do I need to be a tutor, and is there mentoring available?
We look for consultants with different kinds of knowledge and experience, and you will gain the rest of what you need to know on the job, through mentoring, regular staff meetings, and interacting with other Writing Lab staff. All graduate consultants take English 502, a Writing Lab practicum course, throughout their first semester of tutoring, and they are observed and mentored as they go along. All consultants must attend mandatory biweekly staff meetings, which provide additional mentoring opportunities through workshops and discussion.
How are tutoring hours scheduled?
Schedules for tutoring are built around consultants' teaching and class schedules, and schedules shift each semester as necessary. Most tutors end up with schedules that are close to what they have requested. All consultants are required to attend biweekly meetings scheduled each semester.
How long can graduate instructors work in the Purdue Writing Lab?
Tutors can work in the Lab as long as they have funding for an assistantship and as long as they are consultants in good standing.
What professional development opportunities are available for Writing Lab Instructors?
In addition to tutoring, Writing Lab consultants participate in a variety of professional development activities, from presenting at conferences and research to developing new materials for the OWL. Consultants may also take on administrative responsibilities by serving as coordinators for various Writing Lab services. Furthermore, they develop and facilitate workshops, lead conversation groups, and participate in campus outreach.
How do I apply?
Select the Writing Lab on your Teaching Assignments sheets from Janeen Redman (sheets received in the spring semester for fall teaching). There's a place for "Writing Lab Tutors" under "Non-classroom Assignments." Request a copy of the application form, along with two sample documents, from Tammy Conard-Salvo. Consider attending one of the Writing Lab's hiring workshops, and prepare your application. Applications are due on Monday, February 26, 2018 and should be sent to Tammy via email.
How can I get more information about tutoring and other opportunities?
Current Writing Lab graduate consultants will be leading a drop-in Open House and Information Session that will address tutoring pedaogy and theory, tutoring specialized writing needs, and research and professional development opportunities. Applicants are strongly encouraged to attend to learn crucial information about Writing Lab expectations and how to best prepare applications for open positions.
How are tutors selected?
Applications will be reviewed by a committee of Writing Lab administrators and current graduate tutors representing different programs in the English department.
How can I get more information about the Writing Lab?
Please contact writing.lab@purdue.edu with any questions about graduate tutor positions or the application process. You are encouraged to attend one or more of the hiring workshops, and you are welcome to drop by the Writing Lab to observe consultations and to see the space.
Navigation

About

Awards and Featured Articles

Students

Faculty

Alumni

Newsletter

February 2020

January 2020

December 2019

November 2019

September 2019

October 2019

Jobs in the Writing Lab
Tutoring Schedule & Locations
Schedule a tutoring appointment at any location with our online scheduler.
Please note: If you have issues logging in, please call the Writing Center for assistance scheduling your appointment
Phone: 765-494-3723
---
Main Location and Hours (Spring 2020)
Monday - Wednesday: 9:00 AM – 6:00 PM
(Limited slots available for 6:00PM-9:00PM)
Thursday: 9:00 AM – 6:00 PM
Friday: 9:00 AM – 5:00 PM
---