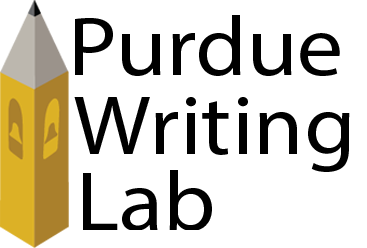 Welcome to the Purdue Writing Lab
This page is brought to you by the Writing Lab at Purdue University. When printing this page, you must include the entire legal notice.
---
Copyright ©1995-2018 by The Writing Lab & The OWL at Purdue and Purdue University. All rights reserved. This material may not be published, reproduced, broadcast, rewritten, or redistributed without permission. Use of this site constitutes acceptance of our terms and conditions of fair use.
---
About Our Writing Lab Coordinators
Writing Lab Coordinators organize many of the activities and service areas of the Writing Lab. The following is a list of all coordinator positions.
Assistant Directors and Coordinators
Graduate and undergraduate tutors have the opportunity to serve in a variety of administrative positions, which provide valuable professional development and experience. Current tutors in these positions are as follows:
AD for Undergraduate Education: Elizabeth Geib
AD for Workshops and WAC: Eugie Ruiz
AD for Multilingual Writing: Mitch Hobza   
Assistant Director for Undergraduate Education
The AD for Undergraduate education teaches a section of ENGL 390, a for-credit training course for prospective undergraduate tutors.  The position works closely with Tammy in mentoring and training current tutors and keeping communication open between the different tutoring staffs. The AD for Undergraduate Education a negotiable amount of release time for teaching and other administrative responsibilities.
Assistant Director for Workshops and Writing Across the Curriculum
The AD for Workshops/WAC receives a negotiated amount of release time from tutoring to oversee in-Lab and in-class workshops.  This includes establishing a semester schedule of in-Lab workshops, communicating with instructors about workshop requests, filling workshop requests, and maintaining records and information about workshops. A good portion of this position requires the AD to communicate with faculty and with the Writing Lab Directors, since many workshop requests may not result in an actual workshop. Some requests may evolve into other WAC programs.
Assistant Director for Multilingual Writing
The AD for Multilingual Writing works on special projects related to multilingual writing meant to support those who work with multilingual writers.  The position varies from year to year, depending on the interests and skills of the graduate student who occupies the position.  The position may be either .25 FTE or .50 FTE.  It does not usually involve any tutoring hours.
Multilingual Writing Coordinator
The ESL Coordinator updates and maintains ESL resource pages on the OWL and the in-lab library of ESL reference and self-study materials, guest lectures in training classes for writing consultants, responds to inquiries about ESL writing issues, and schedules and coordinates ESL conversation groups hosted by the Writing Lab. If you have any questions about the ESL services offered by the Writing Lab, please contact Associate Director Vicki Kennell.
Workshop Coordinator
The workshop and writing across the curriculum coordinator consults instructors across campus on writing instruction and organizes and staffs in-lab and in-class workshops. The in-lab workshops deal with popular writing concerns, like documenting sources and writing resumes and cover letters. Writing Lab consultants may also be available to facilitate an interactive workshop for a class or group on the Purdue West Lafayette campus on a case-by-case basis. The workshop coordinator will evaluate all requests and work with you to decide on next steps that meet your students' needs. Please contact Associate Director Tammy Conard-Salvo if you are interested in incorporating writing into your course or would like to request a workshop.
OWL Coordinator
The OWL Coordinator manages the content development of the OWL, handles requests for copyrights and other OWL-related questions, and works with other Writing Lab coordinators on OWL-related projects. Feel free to contact OWL Coordinator, Joseph Forte, with OWL feedback, suggestions, and requests for usage.
OWL Technical Coordinator / Webmaster
The OWL Technical Coordinator is also known as the OWL Webmaster. This person works on the site design, coding, and usability features and performs upgrades and maintenance on our OWL server. Contact OWL Webmaster, Tony Bushner, for technical feedback or site-related usability issues.
Business Writing Coordinator
The Business Writing Coordinator teaches the Business Writing Consultant training practicum for potential consultants and advises current Business Writing Consultants on tutoring practice and workshop development. Feel free to contact this coordinator to provide feedback on Business Writing resources and services. For more information, contact Business Writing Coordinator Beth Towle.
ENGL 106/Writing Lab Liaison
The English 106/Writing Lab Liaison fosters the ongoing relationship between the Introductory Composition Program at Purdue (ICaP) and serves as a member of the Introductory Writing Committee. If you are an instructor and would like more information regarding the Writing Lab and its services, or if you are interested in collaborating with a writing consultant in the Lab, please contact ENGL 106/Writing Lab Liaison Carrie Kancilia.
Navigation

About

Awards and Featured Articles

Students

Faculty

Alumni

Newsletter

March 2020

February 2020

January 2020

December 2019

November 2019

September 2019

October 2019

Jobs in the Writing Lab
Tutoring Schedule & Locations
Schedule a tutoring appointment at any location with our online scheduler.
Please note: If you have issues logging in, please call the Writing Center for assistance scheduling your appointment
Phone: 765-494-3723
---
Main Location and Hours (Spring 2020)
Open through Friday of Finals Week
Monday - Wednesday: 9:00 AM – 6:00 PM
(Limited slots available for 6:00PM-9:00PM)
Thursday: 9:00 AM – 6:00 PM
Friday: 9:00 AM – 5:00 PM
---