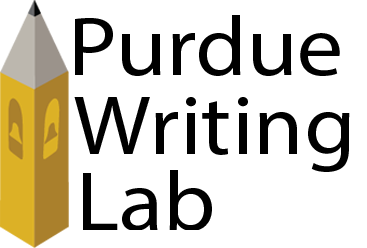 Welcome to the Purdue Writing Lab
This page is brought to you by the Writing Lab at Purdue University. When printing this page, you must include the entire legal notice.
---
Copyright ©1995-2018 by The Writing Lab & The OWL at Purdue and Purdue University. All rights reserved. This material may not be published, reproduced, broadcast, rewritten, or redistributed without permission. Use of this site constitutes acceptance of our terms and conditions of fair use.
---
OWL Scholarship and Research
Welcome to the Research area of the Purdue OWL. This section houses scholarship and research - past and present - on OWLs. Please check back as we continue to expand this section.
Scholarship from Purdue OWL and Writing Lab Staff
Bergmann, Linda. "The Writing Center as a Site for Engagement." Going Public: The WPA as Advocate for Engagement. Ed. Shirley Rose and Irwin Weiser. Provo: Utah State UP, 2010. Print.

Bergmann, Linda. Academic Research and Writing: Inquiry and Argument in College. New York: Longman, 2009. Print.

Bergmann, Linda. "Writing Centers and Cross-Curriculuar Literacy Programs: Models for Faculty Development." Pedagogy. 8.3. (2008): 523-536. Print.

Review Essay of Jeffery Jablonski's Academic Writing Consulting and WAC: Methods and Models for Guiding Cross-Curricular Literacy Work; Anne Ellen Geller, Michele Eodice, Frankie Condon, Meg Carroll, and Elizabeth H. Boquet's The Everyday Writing Center: A Community of Practice; and Christina Murphy and Brian L. Stay's The Writing Center Director's Resource Book.


Bergmann, Linda. "Administrator's Discourse and the Conventions of Academic Authorship." Who Owns This Text? Plagiarism, Authorship and Disciplinary Cultures. Eds. Carol Haviland and Joan Mullin. Logan, UT: Utah State University Press, 2009. 129-155. Print.

Bergmann, Linda (with Danielle A. Cordaro, Cristyn Elder, and Morgan Reitmeyer). Instructors' Manual for Academic Research and Writing. New York: Longman, 2010. Print.

Bergmann, Linda (with Gerd Brauer, Carol Haviland, et al.). "Being EFL: Issues in Internatioal Tutor Exchange." In ESL Writers: A Guide for Writing Center Tutors. 2nd ed. Ed. Ben Raforth and Shanti Bruce. Portsmouth, NH: Heinemann, 2009. Print.

Blythe, Stuart. Technologies and Writing Center Practices: A Critical Approach. Diss. Purdue University, 1997. Ann Arbor: UMI, 1998. AAT 9818920.

This dissertation addresses which computer technologies affect a writing center, and it provides guidance on making informed choices as to which technologies to use in a writing center. This resource will be helpful for researchers to develop guidelines for technologies based on analyzed, empirical data.


Blythe, Stuart. "Why OWLS?: Value, Risk, and Evolution." Kairos : A Journal for Teachers of Writing in Webbed Environments . 1996. 7 Dec. 2008. Web.

The substantive theory states that a technology will change the way an organization functions. This article discusses different aspects of OWLs and how they affect a writing center. This is a good resource to see how an OWL will impact a writing center, and this source allows readers to know what to expect with OWLs. Blythe's extensive hypertext is probably one of the most valuable overview of the early history of OWLs. The information presented within it shows a keen understanding of the intricacies of OWLs, including underlying theories of technology that guide them, rationales for their existence, a discussion of their possible disadvantages for traditional writing centers, future possibilities for the medium as well as other important issues facing OWLs.


Blythe, Stuart. "Wiring a Usable Center: Usability Research and Writing Center Practice." Wiring the Writing Center. Utah State University Press, 1 Sep. 1998. Print.

Usability research affects the design and function for OWLs. This source offers advice on the design of writing centers and OWLs, and it explains usability research and the different types of research that can be performed with OWLs. This article also discusses why usability research should take place during the creation of OWLs.

Brizee, Allen and Tammy Conard-Salvo (with Michael Salvo and Jingfang Ren). "Usability Research in the Writing Lab: Sustaining Discourse and Pedagogy." Computers and Composition 26.2 (2009): 107-21. Print.

Cordaro, Danielle. "Motivating Students to Write: Some Empirical Answers (and Questions)." Pedagogy. 9.2 (2009), 361-367. Print.


Driscoll et al. "Usability and User-Centered Theory for 21st Century OWLs." Handbook of Research on Virtual Workplaces and the New Nature of Business Practices. IGI Global, 7 Apr. 2008. Print.

This book chapter reviews results from usability research on the Purdue OWL. The usability research called for participants to analyze and discuss the Purdue's OWL, and the participants provided suggestions on how the website could improve its usability. The researchers found that user-centered and participatory design approaches improved the effectiveness of the OWL. This resource provides a guide to usability research on OWLs.

Karper, Erin, and Karl Stolley. "New Wings for an Old OWL: Database Solutions for Small and Large-Scale Writing Center Web Sites." Databases in Higher Education: New Media Discourse in Composition and Rhetoric. Ed. Rich Rice and Jeffrey White. Hampton Press: 2007. Print.
Karper, Erin. "Focus on Research Column: Dissertation Research." Business Communication Quarterly 68.3 (September 2005): 340. Print.


Karper, Erin. "Web Usability and Creating an OWL." in The OWL Construction and Maintenance Guide, ed. James A. Inman and Clint Gardner. IWCA Press: 2002. Print.


Reitmeyer, Morgan. "Programs that Work(ed): Revisiting the University of Michigan, the University of Chicago and George Mason University Programs after 20 Years." Across the Disciplines: Special Issue, Writing Technologies and Writing Across the Curriculum: Current Lessons and Future Trends 6. (2009). Print.


Scholarship about the Purdue OWL
Andrews, Deborah C. "OWL: On-Line Writing Wisdom (Focus on Teaching). Business Communication Ouarterly 58:2 (June 1995): 9-10. Print.

Andrews' article gives a concise discussion of how the Purdue Online Writing Lab was used to assist and improve writing instruction at the university. This article is useful for teachers seeking to implement OWLs more effectively into their classrooms and administrators looking for justifications for funding and development for their own institution's OWL.


Mullin, Joan. "An Interview with Muriel Harris." Composition Studies/Freshman English News 23:1 (Spring 1995): 37-53. Print.

In this interview, Harris discusses her own academic journey, her theories and guiding concepts about writing labs, and the Purdue University OWL. This article helps to place an OWL within the guidelines and goals of traditional writing labs.

General OWL Scholarship
Anderson, Dana. "Interfacing Email Tutoring: Shaping an Emergent Literate Practice." Computers and Composition. 19.1 (2002): 71-87. Print.

This article discusses results from an analysis of twenty-nine OWLs on the aspect of email tutoring. Also, this article discusses the primary and secondary expectations users have of email tutoring. This article shows what people expect from email tutoring and discusses flaws and successes with the analyzed email tutoring sessions.


Andeson-Inman, Lynne. "OWLs: Online Writing Labs." Journal of Adolescent and Adult Literacy. 40.8 (1997): 650-654. Print.

The technical aspects of OWLs are discussed. These aspects are resource materials, online tutoring, and information gateways. This article also provides some links to other OWLs to serve as examples. This article will be helpful to researchers who want to gain a more general knowledge as to what users expect from OWLs.

Colpo, Michael, Shawn Fullmer, and Brad E. Lucas. "Emerging (Web)Sites for Writing Centers: Practicality, Usage, and Multiple Voices Under Construction." Taking Flight with OWLs: Examining Electronic Writing Center Work. 1st ed. (2000): 75-84. Print.

The University of Nevada at Reno (UNR) developed an OWL and recorded information regarding the OWL's success. This article is a compilation of the obstacles and successes UNR discovered while creating its OWL. This article will help those wishing to create or improve an OWL by reviewing UNR's OWL development.

Coogan, David. "E-mail Tutoring, A New Way to Do New Work." Computers and Composition 12:2 (1995): 171-181. Print.

As a preface to his discussion of e-mail tutoring and its implications, Coogan begins by relating the historical background of composition studies, tracing the writing process movement and discussing how it empowered writing centers, and allowed the integration of computers into writing instruction. His suggestions and case-study are inspirational and realistic, displaying both the possibilities and problems associated with the medium.


Coogan, David. Electronic Writing Centers: Computing the Field of Composition. Stamford, CT: Ablex, 1999. Print.

Coogan's book, based on his dissertation research, presents a variety of perspectives on possiblities for electronic writing centers. Coogan presents a historical analysis which, situates writing centers and computers and composition within the disciplinary of composition studies and the larger university setting, and then turns from this historical discussion to both a practical and a theoretical discussion of possibilities for electronic writing centers as spaces for students to discover dialogic literacy. Chapters two and three of the book are devoted to case studies of his electronic tutorial work with students at a large state university. The book closes with an elucidation of Coogan's vision for electronic writing centers and how this vision could disrupt current models of both computers and composition and writing centers. This book is an excellent source for those wishing a more theoretical and discipline-oriented discusssion of possibilities for OWLs.

Healy, Dave. "From Place to Space: Perceptual and Administrative Issues in the Online Writing Center." Computers and Composition 12.2 (1995): 183-193. Print.

The addition of an OWL can decentralize the writing center, and it can affect how tutors and writing center directors work. Introducing online conferencing both enhances and endangers the writing center's independence within its organization. This article can provide the pros and cons to adding an online conferencing center so that readers can be cautious to avoid certain obstacles while creating an OWL.


Hobson, Eric, ed. Wiring the Writing Center. Logan, Utah, Utah State UP: 1998. Print.

This edited collection is among the first book-length collections that addresses issues of technology use in the writing center, and the essays focus on both theoretical and practical considerations for OWL design within specific local contexts. The book is divided into three sections. "Models and Strategies for Writing Centers" contains seven essays that consider possibilities for online tutoring and online writing centers. "Critical Assessments of Wired Writing Centers" has five essays which consider the pitfalls and possibilities of doing writing center work with technologies. "Resources for Wired Writing Centers" offers a list of 20 must-see sites for wired writing centers and an annotated bibliography on computers and writing centers. This collection is an incredibly useful resource and shows the development of OWL scholarship over the last decade.


Inman, James A. Taking Flight with OWLs: Examining Electronic Writing Center Work. New Jersey: Lawrence Erlbaum Associates, 2000. Print.

This edited collection of essays about OWLs discusses OWL functions, needs, and suggestions for creating OWLs. This will be a valuable read to gain a comprehensive knowledge on how different OWLs function. Like most other OWL scholarship, it is a fascinating blend of both the theoretical and practical, always aware of dependencies on local contexts.


Jackson, J.A. "Interfacing the Faceless: Maximizing the Advantages of Online Tutoring." Writing Lab Newsletter 25.2 (2000). Print.

This newsletter article addresses the concerns with online tutoring. The most important problem covered in the article is that users cannot see the tutor's face and the user is not aware of the tutor's writing process, which may take away from the credibility of the tutor. This source raises awareness of tutor credibility and provides suggestions as to how tutors should respond to online users.


Johnson, Paul J. "Writing Spaces: Technoprovocateurs and OWLs in the Late Age of Print." Kairos : A Journal for Teachers of Writing in Webbed Environments 1:1. 1996. 7 Dec. 2008. Print.

This resource discusses the different uses of OWLs, what some OWLs offer as resources, and how OWLs affect literacy in its users. This article also provides examples of other OWLs and how they function. This is a good resource to consider if you need to know how OWLs affect literacy in users. Johnson discusses the wide variety of services offered by the assortment of self-titled "OWLs." He specifically defines one genre of OWL that he titles (using Eric Crump's term) "technoprovocateurs"; that is, writing spaces "where quietly subversive activity can emerge from the interstices between computer networks and writing centers." He continues by discussing various OWLs and how they function within the classification, subverting traditional notions of literacy and redefining literate behavior. This is a notable resource that offers perhaps the best discussion of higher-level OWLs.


Jordan-Henley, Jennifer and Barry M. Maid. "MOOving Along the Information Superhighway: Writing Centers in Cyberspace." Writing Lab Newsletter 19:5. (January 1995): 1-6. Print.

This article offers a concise and focused narrative of Jordan-Henley and Maid's inter institutional online tutoring project, the Cyberspace Writing Center Consultation Project. It includes an overview of the project; possibilities and rationales; a description of the preplanning process and participants and tutors; problems experienced; and results. The article concludes with an interesting discussion of the issues that faced the project and draws some conclusions and assertions about future collaborations. This is a must-read for anyone considering working collaboratively between writing centers.


Jordan-Henley, Jennifer and Barry M. Maid. "Tutoring in Cyberspace: Student Impact and College/University Collaboration." Computers and Composition 12:2 (1995): 211-218. Print.

This is another article that describes the collaboration between Jordan-Henley and Maid. However, this discussion takes a more theoretical angle, analyzing the differences and similarities between online tutoring and traditional, face-to-face settings and discussing the implications for students and tutors.


Krause, Steve. "Gopher is No Longer Just a Rodent: Using Gopher and World Wide Web in Composition Studies." Annual Meeting of the National Council of Teachers of English. Orlando, FL. 19 Nov. 1994. 4 June 2002. Print.

Krause gives a general introduction about online sources available for teachers of writing and where they can be found and accessed. He discusses pedagogical uses and implications and advantages and disadvantages. Although some of the technology discussed in now outdated, his report is valuable for any composition teacher seeking to exploit online sources of material. His listing of sources, including various OWLs, and short descriptions are valuable for writing lab administrators and instructors.


Langston, Camille. "Resistance and Control: The Complex Process of Creating an OWL." Kairos: A Journal for Teachers of Writing in Webbed Environments 1:1 (1996). 4 June 2002. Print.

Langston's narrative traces her own process as she attempts to create an OWL at Texas Women's University. Since this article presents a scenario in which significant resistance is experienced, it is useful for those thinking about creating an OWL at their own institution and interested in the possible obstacles and challenges involved in the project.


Lasarenko, Jane. "PR(OWL)ING AROUND: An OWL by Any Other Name." Kairos: A Journal for Teachers of Writing in Webbed Environments 1:1 (1996). 4 June 2002. Print.

Although brief, this article is important to OWL research, offering what appears to be the first attempt at classification of different types of OWLs. Lasarenko creates an "evolutionary" ladder with three ascending "rungs." Her lowest level of OWL consists of those writing centers online that merely "serve as advertisements for a university's already established traditional writing center." Her middle classification consists of OWLs that offer online tutoring services. Her final (and highest) classification describes OWLs that offer a complete set of tutoring services. Although her definitions need further delineation, this article provides a requisite starting point for more complex attempts at classification and definition of online writing labs.


Mitchell, Lissa. Technology and the Writing Center: An Internet Collection. Truman State University. 5 June 2002. Print.

This page is a research resource for those interested in computer technology and the role it plays in writing centers today. Created as part of a thesis project, the site contains reviews, links and bibliographic annotations for literature, OWLs, and other web sites that pertain to computers and writing centers. The end goal of the thesis is to examine the role computers and technology have played in writing centers over the past three decades as well as the role they currently play. The author makes recommendations about the type of technology that should be implemented at Truman State University's Writing Center. All the of the information will be displayed at the site as the author's own research continues. The site is continually updated.


Moody, Susan. "OWLs and ESL Students." Kairos: A Journal for Teachers of Writing in Webbed Environments 1:1 (1996). 4 June 2002. Print.

Moody concisely shows the resources available at OWLS for ESL students, including a list of sources and brief descriptions and links to each. She also offers advice for instructors for analyzing the appropriateness of individual sites for students. This article, combined with a survey of linked sites, creates a strong argument for the practical uses of an OWL in ESL pedagogy.


Palmquist et al. "Network Support for Writing Across the Curriculum: Developing an Online Writing Center." Computers and Composition 12.3 (1995): 335-353. Print.

Advances in computer and computer-network technologies make it possible to consider an alternative to the indirect, top-down pedagogy used in most writing-across-the-curriculum (WAC) programs (i.e., a pedagogy that views faculty as the primary audience for WAC-related training). Drawing on the results of a four-year effort to establish a campus-wide, computer-supported writing environment, the authors suggest that computer networks and specifically designed instructional software (e.g., multimedia instructional materials and interactive writing exercises) can provide the basis for a network-supported, writing-center-based WAC program. The authors' discussion focuses on development of network communication tools and hypermedia courseware to support WAC. (Annotation by Debbie Matuskevich, 21 March 1997).


Rickly, Rebecca. "The University of Michigan's Online Writing and Learning: Locating the Writing Center in the Aviary." ACE Newsletter 9:4 (1995-6). 5 June 2002. Print.

Taking Dave Healy's notion of "from Place to Space" a bit further, this article traces the background of the University of Michigan's Online Writing and Learning, or OWL. Michigan's peer tutoring program takes advantage of the space in which students are writing (the university's "fishbowl" computer lab), and the OWL takes advantage of the medium on which they're writing: the computer. The article also touches upon issues of cybertutor training and potential administration problems in an evolving OWL.
Shadle, Mark. "The Spotted OWL: Online Writing Labs as Sites of Diversity, Controversy, and Identity." Taking Flight with OWLs: Examining Electronic Writing Center Work. 1st ed. (2000): 3-15. Print.

This article discusses the results from sixty-seven surveys about OWLs. The surveys asked about the forms of technology used for writing centers' OWLs, OWL users, how the OWL affected the writing center, and materials the OWLs used. This source offers quantitative and qualitative data on OWLs' level of success as reflected by responses from the participant writing centers. This source will benefit researchers who wish to learn how writing labs can be affected by OWLs.


Spooner, Michael and Eric Crump. "A Dialogue on OWLing in the Writing Lab." Writing Lab Newsletter 18:6 (February 1994): 1-5. Print.

In this three-part dialogue and editorial introduction, Spooner and Crump each offer conflicting opinions regarding the place, growth, and future possibilities of online writing labs.

In "Some Thoughts about Online Writing Labs," Spooner points out problems he perceives in online writing labs, and specifically argues against offering online tutoring services, acting against the generalization that "a response is a response is a response." Instead, he sees OWLs as being useful for disseminating general information. He also discusses possible authorship and ethics concerns he perceives.

In "Some Thoughts on Michael Spooner's Thoughts," Crump regards online writing labs differently, seeing them as "elements in the exciting and painful process of change." He criticizes Spooner for taking a narrow view of discourse and sees OWLs as a way to start towards new conceptions of writing as the process of questioning old assumptions and looking for new ones progresses. He counters Spooner's issues about authorship and ethics and sees OWLs as a natural result of new conceptions of writing.

In "More OWLish Thoughts," a short counter-argument, Spooner reinforces his own points, but also avoids an agonistic tone by affirming his own excitement about the role of technology. He argues briefly against the "utopian" conceptions of online writing.


Thomas, Sharon, Mark Hara, and Danielle DeVoss. "Writing in the Electronic Realm: Incorporating a New Medium Into the Work of the Writing Center." Taking Flight with OWLs: Examining Electronic Writing Center Work. 1st ed. (2000): 65-73. Print.

This chapter describes the development Michigan State University's OWL from its origins and how the Michigan State writing center dealt with emerging technology. The article discusses publishing on the World Wide Web, extending classroom conversations, conducting research on the internet, problems with internet consulting, and revising the online writing consultancy. This chapter will benefit researchers needing to know how to cope with technology when developing and maintaining OWLs.
Navigation

Usability

Big Ten Academic Alliance

Writing Centers Research Project

OWL Conversations

Peer Institution Reports & Data